First look at God.
Then look at a convincing impression of God.
Grigor Dimitrov will always, and should always, be seen as a Kirkland Signature™ Roger Federer, but in my personal experience Kirkland products have always been of very high quality.
The 26-year-old Bulgarian started this season in outrageous 16-1 fashion—which provoked a little bit of overreaction on this blog—beating everyone other than Rafael Nadal and even taking him to a five-set Australian Open semifinal epic. Then poor Grigor went cold for a few months. He slunk out of the French Open too early. He was feeling good at Wimbledon until finding himself underneath a steamroller called Roger. At least he ended his summer with what was then the biggest title of his career in Cincinnati over an engaged Nick Kyrgios. Then he went quiet again for a few months. But yesterday he won the year-end ATP Finals over David Goffin, 7-5, 4-6, 6-3, and now Grigor Dimitrov will finish 2017 at a career-high No. 3, behind only Rafa and Fed.
That Dimitrov could ascend so high in the rankings with a season so uneven is mostly a testament to the bombed-out and depleted men's field; not being dead is half the battle. Gone are Novak Djokovic, Stan Wawrinka, Andy Murray, Milos Raonic, Kei Nishikori, Nick Kyrgios, all laid up with injuries and recovery until 2018. Rafael Nadal made it to this tournament, tried his best to limp through a knee injury, but bowed out in his first match.
The man who defeated Nadal in that match and the man who cleared out Federer was the unassuming David Goffin—a slight Belgian who plays a clean and fleet-footed brand of tennis. He wins at tennis not with any out-and-out weapons but by doing everything right, all the prowling anticipation and impeccable timing on the ball. I enjoy watching him. His peers do too. He'd be "your favorite player's favorite player" if the answer to that question wasn't also—always, suffocatingly—Roger Federer. As it happens, Federer was Goffin's idol growing up, too. At the post-match handshake Saturday, Fed seemed unusually gracious in defeat. Perhaps he felt that Goffin, a low-key and talented 26-year-old with a bleak record against the very best, had more than earned some wins over the world No. 1 and No. 2.
G/O Media may get a commission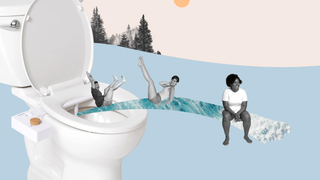 17% off
Tushy 3.0 Warm Water Spa Bidet Attachment
Fresh off upsetting his idol, Goffin entered the final against Dimitrov applying immediate pressure and breaking twice in the first set. As one of the best returners on tour (this season he ranked seventh in return games won, at 27 percent) and did well to keep Dimitrov on edge throughout the match. As you'll see below Goffin has a taste for the return winner, but even when he's not going for the kill, he has an remarkable way of putting the point back on his terms. On any given point, the server can expect to immediately gain the upper hand: A serve is a fast, aggressively placed shot that the opponent usually has to scramble to defend, and usually hits back weakly compared to an average groundstroke. Goffin's guesswork and timing is so fine, however, that that he can often line himself up to make solid contact on his returns and negate the server's advantage. Look at how deep he places the return on the last point here, opening up a neutral rally for himself:
For all Goffin's genius on the return, he's just as susceptible on his own serve. He broke three times in this match and Dimitrov broke four. Dimitrov began to play the kind of transcendent all-court tennis that he has always had in him, even if it only sporadically makes itself known. He has the court coverage of Federer, if Federer was taller, bendier, and slightly drunk. No one hits the ball better while falling on their ass or easing into a full split. Perhaps no one other player has the combination of foot speed and soft hands necessary to play the kind of fearless, net-charging, wide-grazing tennis that Federer so desperately wants the youth to copy.

By the tail end of the last set, Dimitrov has ascended to another level altogether.
Despite the throwback pleasures of a Rafa/Fed-dominated year, this season lost its flavor like an overworked wad of gum. A deep Australian Open field will feel a lot like relief. Will these two players be a significant part of it? Both Goffin and Dimitrov are now hitting their physical primes; is there any hope that they could win some majors, that their generation might not be completely shut out by the Big Four and then leapfrogged by the younger set? Maybe. But then maybe Djokovic and Murray will split the Slams next year and everything will revert back to the way it was. At least Grigor Dimitrov and David Goffin caught a little beam of sunshine in London, while they still could.