The Hoopsters brought us a lot of enjoyment over the last two months. However, now that summer's over and the New York Times is writing about them—and quoting me—it's time to say goodbye.
Adam Wilson of The Faster Times emailed me to say that he was writing a piece for the Times about hoopsters and wondered if I could give him a quote. I responded with the most succinct 300-word assessment of the phenomenon that I could muster. I theorized about nostalgia, post-millennial anxiety, fabric affordability, and figurative castration. The Times went with the bit about hacking off balls.
David Matthews, a contributing editor to Deadspin, sees a possible psycho-social imperative behind the trend. "A friend of mine thinks that wearing an N.B.A. jersey is a way of showcasing your masculinity after years of figurative castration brought on by skinny jeans and the like," he said. "She has a point, but at the same time, it could just be an ironic response to that idea."
Well, now that the hoopsters have hit the big time, it won't be long before the TV people show up, and I have to go on MSNBC wearing a Chris Mullin Pacers and some entrepreneurial upstart edits the video so it's nothing but me stuttering. Needless to say, no one wants that.* No, the hoopsters must be put to bed, but not before one more smorgasbord of pictures. Thanks to everyone who took pictures of friends and strangers and sent them in. I hope they forgave/didn't punch you.
Goodbye, hoopsters. Hope I don't see you next summer wearing Bo Jackson t-shirts or putting Jeff Hostetler cards in the spokes of your fixed gears—Raiders gear seems like the next logical step.
G/O Media may get a commission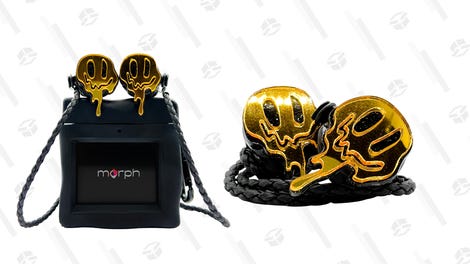 morph audio
Morph Earphones
*MSNBC producers: I can most effectively be reached at david@deadspin.com, I'm free early mornings and evenings.
N.B.A. Chic for the Slim Fit [New York Times]