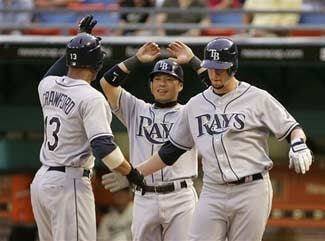 • Battered Fish. A 10-run inning? Wha? The Battle of Florida is not going well for the Marlins, as Tampa Bay enjoyed a 10-run, 14-batter, 32-minute fifth inning on its way to a 15-3 win. Carl Crawford had two homers and five RBI. Believe it or not, it wasn't a franchise record for the Rays, who once had 11 runs in an inning.
• Well, That Didn't Last Long. Euphoria over Tuesday's 12-5 win over the Yankees melted to a puddle of regret for Pittsburghites on Wednesday, as the visiting New Yorkers won 10-0. Derek Jeter was 3-for-3, Bobby Abreu had a three-run homer and Joba Chamberlain earned his first win as a starter, striking out seven and walking one over 6 2/3 innings.
• Knuckleball Vs. Fastball. Who Ya Got?. Tim Wakefield beat Randy Johnson in the battle to see who would get off of whose lawn, the Red Sox beating the Diamondbacks 5-0. Coco Crisp had three doubles for Boston.
When you have a 2-3 record, a 5.04 ERA and have just been demoted to the bullpen, perhaps choking your general manager in the middle of the team dining room is not a wise career move. Sure, I've throttled my bosses several times over the years; but they were gentle stranglings, and I never did it in public. They pass out, and when they come to you tell them they were choking on food and your Heimlich saved their life. (Has worked with Denton every time so far). The Astros' Shawn Chacon is not so wise, however.
He placed a choke hold on Houston general manager Ed Wade, and threw him to the ground, just before the Astros' game with the Rangers on Wednesday at Minute Maid Park. As a result he's been suspended, pending the Astros finding a team in Greenland to trade him to. You really have to wonder how it came to this. You see Chacon, above, who is a rather strapping man. And here's Wade. I mean, WTF? Just poke him with a breadstick and he'll go away. Why throw away your career? Has Latrell Sprewell taught us nothing?
Besides, this is the wrong franchise in which to threaten authority. Owner Drayton McLane Jr. is pals with the Bush family and would not hesitate for an instant to use his influence to have Chacon bombed and invaded.
"We can't have anarchy," McLane told the Houston Chronicle. "You can't have rebellion. If you shoved a policeman down or any other public servant ... can you imagine shoving a principal in a school?"
Well yes, yes I can. In fact I imagined it pretty much all through middle school.
Well, not to belabor the metaphor, but Miguel Tejada continued the theme in the game that followed, grounding out with the bases loaded for the final out in the Rangers' 3-2 win. Max Ramirez' second major league hit — a two-run homer in the fourth — provided the final margin for Texas.
• Wizard Cat Offensive Player Of The Day. Todd Jones, Detroit Tigers. We temporarily change the theme of this feature to acknowledge the impersonation stylings of Jones, who recreated Maggio Ordonez' 2006 ALCS walkoff homer during a rain delay on Wednesday. You have to admire the dedication to detail, which included donning Ordonez' jersey, which looks a bit tight. Wizard Cat gives this impression: Four wands.