If the Kansas City Royals' sweep of the Anaheim Angels left us with one lasting image, it will probably be that of Royals center fielder Lorenzo Cain just about losing his damn mind after making his second straight spectacular catch in the top of the fifth inning of last night's series-clinching win.
With one out and runners on first and second, Albert Pujols looped a ball into shallow left-center that looked destined to drop for a single. But Cain came charging on, laying out to pluck the ball out of the air just inches from the ground. During the very next at-bat, Howie Kendrick sent a low, hard liner straight at Cain, who read the ball perfectly and came sprinting forward to make a perfect sliding catch. That's when the emotion and energy came spilling out of him, and he ran toward the infield looking like a guy who had just hit a walk-off grand slam.
It was a perfect culmination of Cain's series, who in three games put together a highlight reel that most center fielders would be satisfied with taking a few months to finish. He's been doing stuff like this all year, actually, stationed in center as the core of the Royals' exceptional defense. He posted 4.9 WAR this season, and was the fourth-best defensive outfielder (minimum 500 plate appearances) in the league according to FanGraph's defensive metric. Cain is one of the most exciting outfielders in the league, and he just treated national audiences to a three-game coming out party.
The really crazy thing, though, is that Cain shouldn't even be here. You probably heard Ernie Johnson mention at some point during one of his broadcasts that Cain didn't start playing baseball until his junior year of high school, but that anecdote doesn't quite do Cain's story justice. In May, the Kansas City Star's Andy McCullough wrote a (really great) feature about Cain's journey from high school to the pros. It contains passages like this:
That afternoon, Cain took the field wearing jeans, tennis shoes and no glove. Myers eyed him for a few moments. He instructed Cain to help himself to the leftover gear inside the team's fieldhouse.
Cain rummaged through the old equipment, emerged with a shop-worn glove and lined up with his new teammates to shag. Myers held his breath and popped a fly ball toward the novice.

"What's remarkable," he said all those years later, "is he actually caught it."

What followed was just as memorable. Cain settled beneath the ball. He reached up with his right hand. The ball nestled in his glove. Then he pulled off the leather with his left hand and threw the baseball back to Myers with his right.
G/O Media may get a commission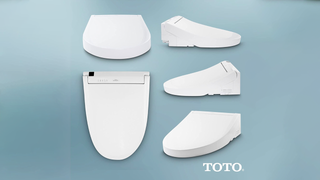 44% off
Toto Washlet Electronic Bidet Toilet Seat
Cain didn't know how to properly place his hands on the bat when he first started, either. Now, he's a playoff star. There are plenty of reasons to root for the Royals to continue advancing through these playoffs, and the opportunity to keep watching Cain do the awesome shit he did last night is one of the biggest.
[KC Star]