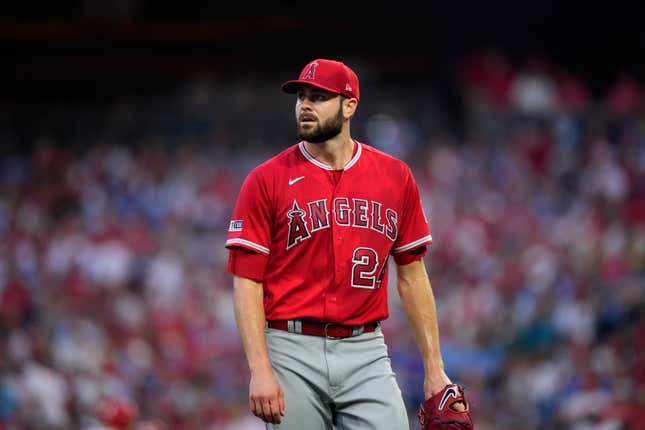 It obviously hasn't worked out for the Anaheim Angels. While their determination to try and make themselves worthy of Shohei Ohtani's long-term commitment, or at this point even a short-term one after the season, was admirable and certainly unique to MLB these days, their immediate nosedive after acquiring all those pieces was soundly…well, Angels. Angel Stadium, where everyone steps on a rake.
With Ohtani unable to take the mound again, Mike Trout probably shelved for the year, the Halos are one with the gulch. And they admitted that to themselves yesterday, when they put all their deadline pickups on waivers — Lucas Giolito, Reynaldo Lopez, Randal Grichuk, as well as Hunter Renfroe and Matt Moore.
In the old days, some of these guys may have been the subject of waiver-wire trades, but that's not a mechanism anymore. And while it certainly makes the Angels more of a laughingstock than they already were — it's quite a look to try and dump all the ballast by the side of the road just a month after getting all of it — the cynical side of it makes it less than a chuckle. The Angels are hoping that all these guys are claimed, which with the month's relief of their salaries would get the Angels under the luxury tax threshold while trying to save face by yelling, "You're free now!" as they push the players out of the car.
There are draft pick concerns, as if the Angels do get under the tax their compensatory pick will remain after the second round instead of dropping to the fourth. Anyone who cares about this in the MLB draft is a danger to society. If the Angels fortunes only hinged on that slight improvement of a draft position. They'll need far more than that.
On the surface, you can't exactly argue with what the Angels have done. None of these guys were likely to be Angels next year, and if they have any chance they can be signed in free agency just as easily now as they were yesterday. Other than the publicity, getting under the tax and ducking those penalties, both financial and in the draft, are a plus, however big. On a spreadsheet, at least. If the Angels aren't going to go anywhere, then they might as well really not go anywhere for the last month. Our kingdom for relegation in MLB.
But still, the look. Ohtani's free agency is fantastically layered now thanks to his injury, but what exactly will the Angels sell him on now? They don't exactly look like the tightest ship, and players acquired either this offseason or during the season have been jettisoned before it even finished, which doesn't speak to a front office that can put together a winner. Or parallel park. Is Ohtani really going to commit the end of his prime to this barely intact wagon?
For Angels fans, they may already be loading up on Hemlock and Joy Division albums, watching Ohtani walk combined with a nothing farm system and this regime still in charge. How many more years in the wilderness are they looking at? How many more can they take?
It's the kind of odor that doesn't wash off in one offseason. Sure, players will take money from any team willing to offer it. But if Artie Moreno has his front office working this hard to duck the luxury tax, who has any faith that they'll be the ones to shell it out? This is an organization that is going to take some sandblasting to get right.
Gregg Berhalter hasn't spoken to Gio Reyna
There was a lot of furor yesterday over Gregg Berhalter letting it out that he hasn't spoken to Gio Reyna yet after all their mishegas during and after last year's World Cup. Most of the drama has to do with Reyna's parents and not him, though he certainly can have a complaint about being talked about at some conference afterward.
But this is how international management works. Players are only under their national team tent for a few days every few months. Reyna hasn't been on the field yet for Borussia Dortmund — it's early in the season — so Berhalter hasn't had any reason to travel there to see him play and perhaps talk to him after that match. He hasn't even been over to Europe yet at all, with the season just having started.
Sure, it would be nice if he placed a phone call, but it's hardly abnormal that he wants to wait until a face-to-face meeting to clear the air. That'll happen next week, and it really shouldn't be that big of a deal.
While Berhalter probably shouldn't be telling tales out of school, he did keep Reyna's name out of it and it was some good reporting by The Athletic to glean it. Secondly, Berhalter gave Reyna cover during the tournament by saying his absence in the starting 11 was due to a lingering injury, instead of going full Jose Mourinho and telling everyone it was due to a shit attitude and worse training.
It's just as likely Reyna would like to move on as much as Berhalter, and if he's fit he'll be in camp and this will all go away. Berhalter should notice though how much the knives are already out for him over this, and guess what this cycle will look like for him in the public sphere. Better do real well in the Copa America there, Greggy.
Chelsea goes on spending spree
Staying in the soccer realm, Chelsea have it in the bank account to splash nearly $200 million on two midfielders in the past couple weeks, and over $1 billion in transfers and new contracts since Todd Boehly and crew took over. They apparently can't find the scratch-to-cover buses for their fans to away matches, however:
It would cost the club something like $315,000 for the season to continue to cover the cost for their away support to travel to away matches, as is the custom around the Premier League. But that apparently wasn't "financially sustainable." So what about the Mykhailo Mudryk signing, then?
---
Follow Sam on Twitter @Felsgate and on Bluesky @Felsgate.bsky.social