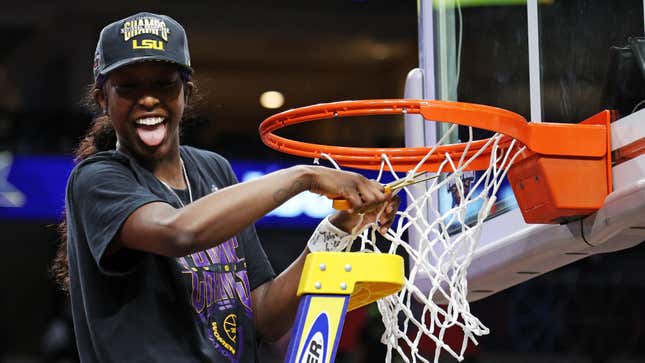 This NCAA Women's Basketball Championship game had everything; insane outside shooting, a pink-sequined pantsuit, trash-talk that got personal, a record-setting final score, nanny-state officiating, an Iowan breaking the tournament all-time scoring record, and Billie Jean King.

Will Sage Steele benefit from leaving ESPN? | Agree to Disagree
And even the worst of that is good for the game, for the same reason Iowa's Caitlin Clark and LSU's Angel Reese got chippy – because people care. Let them scream about LSU's Alexis Morris calling out Clark from the championship platform on the sports debate shows this week. She was vindicated! She was classless! Pick a take, but you can't ignore this game.
In the end, LSU defeated Iowa 102-85.
It was like a coming-out party for the next iteration of the women's game. There were stars like King, Aces' coach Becky Hammon, First Lady Dr. Jill Biden, hoop legends Sheryl Swoopes and Candace Parker joined by numerous current and former athletes and a packed stadium of basketball fans for this, the first women's final on ABC. ESPN and ABC are both owned by Disney, and ESPN has held the broadcast rights for the women's tournament since 1996.
It's almost like giving people a chance to watch the women's game works
The game was moved up to 3:30 in the afternoon to fit ABC's schedule, but if the ratings built on ESPN's record numbers for the earlier rounds of the tournament, this will be a prime-time game in the future.
You're going to see a lot about the officiating in this game, and that's because it was smothering. These players didn't need to be managed, they needed to fly. Instead, in the first half, the refs essentially took the top two players for both teams, Reese and Clark, off the court with fouls. And it didn't let up.
USA Today's Nancy Armour pointed out that the record 37 fouls called by the officiating crew were 10 more than in the women's final that held the previous record.
Clark started off incredibly hot, making 3-pointers from everywhere. Lots of players have a favorite shot, or practice from a step or two back from the arc so much that they seek out that distance before an attempt. But Clark's accuracy is untethered from the arc, making her shot hard to defend.
With 30 points in the game, Clark passed Sheryl Swoopes's record for most points scored in a single women's tournament. And of course, the former Texas Tech legend, and the woman with the first signature shoe, was there to see it.
Despite her next-level ability, however, Clark was managed.
Iowa was down 17 points at the half, 59-42, but to put that in context, LSU had scored way more first-half points than in the history of the women's final. This game was technically excellent; from offensive interior passing and shot percentages, to defensive play and physicality. The role-players who got the worst of the critique were the refs.
LSU coach Kim Mulkey's outfit, always a message, was a sequined pink and gold tiger print that looked at once charming and deadly, as if the double-edged Southernism "Bless your heart," had been made into a pantsuit.
Mulkey, like plenty of championship coaches who came before her, is problematic. The way she publically responded to questions about former player Brittney Griner while she was imprisoned in Russia was insensitive verging on pathological.
But Mulkey is an excellent coach. Dressing to draw attention was tactical, and in a game with technical fouls, she notably didn't draw one — despite her full-bodied performance, which included bumping into a ref. But LSU won by too many points for that to have been the margin.
"Year two at LSU, holding this trophy, and it's crazy," Mulkey said as the confetti flew.
The talent took center stage
And despite her outfit, her players were the real stars. Reese had 15 points, nine rebounds and five assists and was named MVP more for her overall leadership than her scoring. Jasmine Carson literally didn't miss in the first half, scoring 21 points with Reese on the bench in foul trouble.
With 53 seconds left, up 99-85, the LSU band started playing Right Above It and Mulkey let herself wipe the tears away from her massive eyelashes with the certainty of a win.
Feels good doesn't it? Feels good not to have to rehash the topic of whether UConn's dominance was good for the women's game. Of having to reflexively love everything and everyone who participates. This story is layered. The players get competitive. The game was excellent.
And it gives us all something to talk about tomorrow. If you ask me, trash-talking is part of the game. Wait until you hear what Michael Jordan said to his opponents.