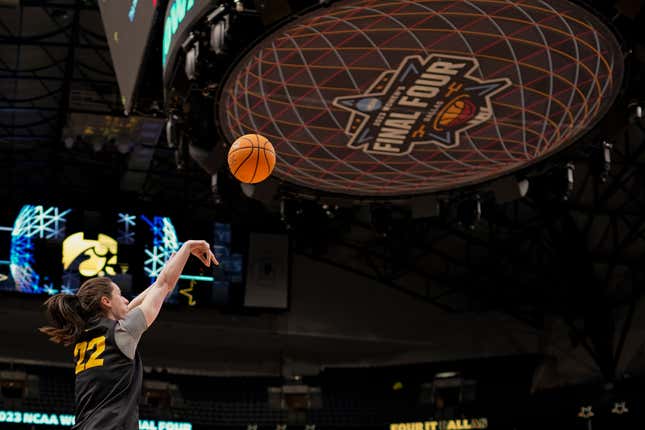 Good to know the crowd, and thankfully fringe minority, that shouted "women's sports are boring" never had a leg to stand on in the first place. Their ignorance becomes clearer and more definitively described as sexist each day. This year's NCAA Tournament has been a huge catalyst for the Field of Dreams theory — if you build it, they will come. The ratings, star power, and ticket prices are proof that if you gave women's sports a proper platform for anyone to watch, they would. And fan interest has echoed that in many ways.
Grant Hill looks to repeat Team USA's 2004 "success"
According to ticketing technology company Logitix, demand for tickets to the NCAA Women's Final Four is the highest it's ever been on the secondary market. Prices for the trio of games tonight and Sunday in Dallas more than doubled from their prices one year ago. Logitix found that the average-priced ticket for the semifinal games, before fees from multiple ticketing websites, was $166 for the 2022 women's Final Four. That's up to $367 this season, an increase of 120 percent. Scoring seats to the championship game had an increase of 103 percent, jumping from $173 to $351 for the average ticket. The cheapest ticket available on StubHub on Friday morning was available for $323 before fees. And that's for the nosebleeds. For the lower bowl? The cheapest available is $1,530 before fees, the same as a meal for four at Thomas Keller's Per Se.
At the same time, interest in the men's Final Four has dropped by more than 25 percent over the same span. The average ticket for the men's national semifinals was $1,105 a season ago, down to $819, per Logitix, a 26 percent decrease. The championship game had similar results, a 28 percent discount from $574 last year to $415 on Monday. That's only $48, good enough for one slice of black truffle at Le Bernardin. The men's Final Four is taking place in a football stadium, not a traditional arena meant for basketball, but as of lunchtime Friday, plenty of tickets were available for under $100.

It's not lost that the stark differences between accommodations for the NCAA men's and women's tournaments during the bubble scenario were only two years ago. That August, an external gender equity review of the NCAA read:
"The results have been cumulative, not only fostering skepticism and distrust about the sincerity of the NCAA's commitment to gender equity, but also limiting the growth of women's basketball and perpetuating a mistaken narrative that women's basketball is destined to be a 'money loser' year after year.

"Nothing could be further from the truth. The future for women's sports in general, and women's basketball in particular, is bright."
And now Aliyah Boston, Caitlin Clark, and Angel Reese are fulfilling their part of that process.

Speaking of the biggest stars from three of the four teams left fighting for a national championship, who on the men's side compares to any of their star power? Before two weeks ago, could even a moderate college basketball fan name anyone on Florida Atlantic or San Diego State? And one of them is going to play for a national championship. It's possible UConn's Jordan Hawkins was on the radar of sports fans, or Miami's Isaiah Wong for being the poster boy for how to leverage NIL, but Boston, Clark, and Reese have dominated on the court all year long. The biggest stars on the men's side will be watching the Final Four, not playing in it.

Those who couldn't travel to watch the games in person have shown up in front of their televisions too. Sunday's Iowa-Louisville Elite Eight game averaged 2.5 million viewers on ESPN, up 94 percent from Stanford-Texas last year, which was the largest television audience for a game outside the Final Four before this season's tournament. Ohio State's Sweet 16 upset of UConn, arguably the most recognizable brand in women's college sports, drew 2.41 million viewers on ABC, which nearly tripled last year's equivalent of 879,000 viewers on ESPN2. This year's Sweet 16 and Elite Eight had four of the seven biggest audiences in women's tournament history outside of the Final Four.

So again, women's sports are boring? That argument should've been done with after the 2015 FIFA Women's World Cup, when the final between the United States and Japan had 26.6 million viewers in America. Yet, the arguments of it involving the entire country or being a quadrennial event stupidly existed. We should've buried these claims years ago, but with the shovels from this year's NCAA women's tournament, they need to be gone forever.