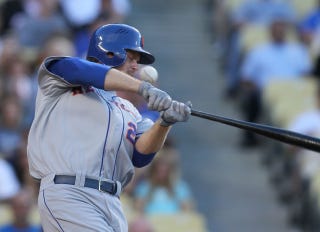 Mets outfielder Lucas Duda broke his right wrist last month while moving furniture in his apartment, becoming another bullet point in a list of dumb baseball injuries, even just in 2012.
From Anthony McCarron of the New York Daily News:
Rehab from a broken wrist could affect Duda's trade value this winter, although the prognosis for recovery from wrist fractures is generally good, according to Dr. Michael R. Hausman, an orthopedic surgeon and the Chief of Hand and Elbow Surgery at The Mount Sinai School of Medicine.

"He's young and he's healthy, and the quality of the bone should be good, so if the surgery went well, I'd think next spring is definitely reasonable," said Hausman, who has not treated Duda.
Duda had surgery on Monday and should be ready for spring training. While Duda's injury was very dumb, the 2012 winner remains Brewers catcher Jonathan Lucroy breaking his hand when his wife dropped a suitcase on him while he searched for a sock under the bed. Heck, this isn't even the weirdest Mets injury this year. But there's still time.