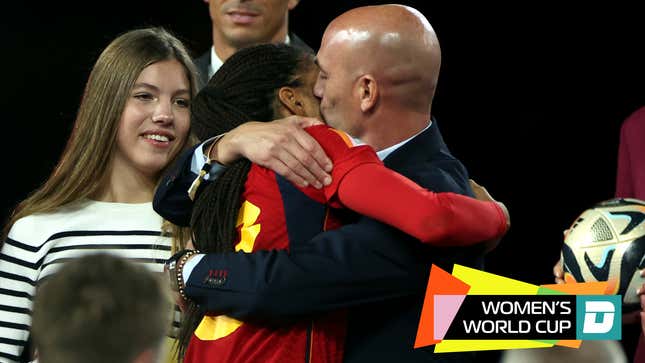 UPDATE Sep. 10, 5:20 p.m. EST
Spanish FA president Luis Rubiales has finally resigned after nearly a month of hubris, denial and refusal to accept blame for force-kissing Spain's World Cup star Jenni Hermoso. Rubiales said he submitted his resignation to the interim president of Royal Spanish Football Federation (RFEF). "I have also let him know that I have also resigned my position in UEFA so that my Vice-presidency position can be filled," he said on X, formerly known as Twitter.
Luis Rubiales' mom locked herself in a church and is on a hunger strike
He added that "waiting around" would not "contribute anything positive, neither to the Federation nor to Spanish football. Among other things, because there are actual powers which will prevent my return."
UPDATE AUG. 28, 11 a.m. EST: Spanish prosecutors have opened an investigation into Spain's soccer president Luis Rubiales, according to reports. This comes days after Rubiales refused to resign and was suspended for kissing Spain star Jenni Hermoso on the lips after the team's World Cup victory. In another, bizarre twist, Rubiales' mother has reportedly locked herself in a church and declared a hunger strike in response to what she called an "inhuman, bloodthirsty witch hunt which my son is being subjected to."
Luis Rubiales' mom locked herself in a church and is on a hunger strike
Luis Rubiales' mom locked herself in a church and is on a hunger strike
Some day there will be a Women's World Cup champion that has been treated equitably and professionally by its national federation. This year wasn't it. Again.

The dominant play of the Spanish women, who defeated a beloved team from England in the final 1-0, should be the story. Instead, it was a belligerent overstep from Spanish federation head Luis Rubiales, who grabbed player Jenni Hermoso by the head with both hands and kissed her on the lips as the team was honored after the game.
Then he told the world she wanted it.
Hermoso refuted that in a statement that said she "felt vulnerable and the victim of aggression, an impulsive, sexist act which was out of place and with no consent on my behalf" as reported by ESPN.
Rubiales has got to go, and the only people who don't seem to get that are the bros in charge of the Spanish soccer federation (RFEF), where Rubiales somehow still has a hold on the presidency. The international alarm is rightly growing. Hermoso's teammates are refusing to play while Rubiales remains in place, FIFA has suspended him, dozens of other pro soccer players — men, and women — have condemned him, and NWSL commissioner Jess Berman, whose league has painstakingly put player safety first after reckoning with a coaching abuse scandal of its own, issued a statement on Saturday.
"As leaders of leagues, federations, and governing bodies, we must protect our players," Berman wrote. "The actions by the Spanish federation are unconscionable and a reminder that there's still work to do. We stand with @JenniHermoso and any players who face inappropriate behavior or abuse."
The Spanish federation is protecting something all right — Rubiales' delicate ego. The lengths these men will go to make sure that he is not made uncomfortable.
In a valiant display of machismo, the Spanish federation has gone full bros before professional athletes. They've said Hermoso lied about not wanting to be manhandled in her moment of victory! That they will sue! That Rubiales will NEVER SURRENDER!
This is a guy who reached the acme of his professional life, standing in front of the international press, the championship team, the Queen of Spain, and her daughter, and he manages all the dignity of a drunk frat boy on the street after the bars closed.
Instead, the crotch-grabbing embarrassment of a man gave a 30-minute speech where he refused to resign — and was applauded.
I think about all the times a woman decided to just be quiet because a man like Rubiales has power and support, when she knows her teammates couldn't have afforded to stand by her side, when no one would have believed her, and when the story would have been told it would be to smear her.
Hermoso's support shows we've made some progress.
All Rubiales had to do was pretend to apologize and it would have been gladly accepted by FIFA, a body with a terrible history of half-heartedly promoting the women's tournament and neglecting the growth of women's soccer. They would have been glad to move on, and it's the Spanish women on this team who deserve to be front and center.
As Spain and the United States have shown, while a winning team is a point of national pride, it can also bring a spotlight to the rot in a foundation.
And this is rotten to the core. It is no wonder the Spanish women made their discontent known before the World Cup. The RFEF needs to be hollowed out and rebuilt from scratch.
The women didn't win because of their federation, they won in spite of it.
While the moment is noxious, it may ultimately be cleansing because the whole world sees the dysfunction.
It was like that in 2019, when fans in France cheered for equal pay during tournament games as the U.S. team fought their federation over wages. Incidentally, last May the European Parliament passed a suite of pay transparency rules designed to make it more difficult to underpay women.
As the Spanish federation doubles down on the boorishness, the rest of the world is speaking up.
It's clear that the RFEF is expecting more gratitude from players, which is what men have always required when ceding space for women to play sports. But the times have changed. The #MeToo movement has educated us all about the tropes used against women in these situations. Hermoso didn't ask for it. She doesn't need to be grateful to be there. A championship ceremony is still a professional environment. These players aren't his girls, they are professional soccer players.
Rubiales won't be the president for much longer. Instead of apologizing and working to be a better leader, he'll be another aggrieved misogynist muttering complaints about cancel culture to the dwindling few who still have the patience.