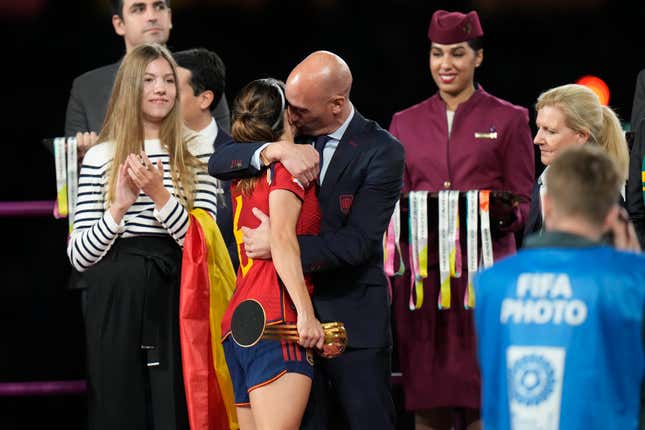 Update Aug. 24: According to multiple reports, Luis Rubiales plans to resign.

Spain's triumph in the World Cup Final yesterday took some selective enjoyment for fans, given what had transpired over the past year. Still, it was hard to suppress an appreciation for what the players had accomplished with such gusto, skill, and swagger. They certainly earned the affection and appreciation from fans over the frustration with those above them, whether in the manager's chair or at FA headquarters.

Being a Tennis Gladiator like Roger Federer | Bear Grylls' Ultimate Sports Fantasy
But man, was that tested in the immediate aftermath:
I won't pretend to know if FA president Luis Rubiales was consciously making a power play or just being a historic creep, but it really doesn't matter. He is clearly a guy who has never thought he was wrong, and has little patience for anyone who might suggest he might be. We know that given the swift rebuttal the 15 players that resigned from national team duty rather than play under the same conditions were given. It was never about listening to the players or evaluating their complaints and suggestions for change, always just asserting power and defining the same roles as always. Whether he meant to (He eventually apologized, saying, "I made a mistake for sure."), Rubiales's forced kiss on Jenni Hermoso was certainly a display of how he thinks things work in Spanish football, and on the women's side. He'll do as he pleases and the players will just have to abide because he's in charge. Familiar refrain from a lot of places. Oh, and it's assault. Probably should mention that it's assault.
One hopes the players can take their newfound worldwide notoriety, and the greater attention to their fight, and get Rubiales hung by his eyelids somewhere, either figuratively or literally. We won't be picky.
Alcaraz, Novak picking up baton from Rafa, Federer
If there was any worry that tennis might not have a rivalry to carry the sport further with Rafa Nadal's approaching retirement and Roger Federer's exit, Carlos Alcaraz and Novak Djokovic are assuring everyone that's not the case. After their classic Wimbledon final, yesterday they took a best-of-three-set match to nearly four hours, with Djokovic winning in a third-set tiebreak. It had more of the ridiculousness that you may remember from July's epic:
Federer-Nadal never happened in New York at the US Open, but now fans have something else to look forward to, something in the same vein as Bjorg-McEnroe or Agassi-Sampras. And if you've ever met someone from New York, you are acutely aware that nothing has truly happened until it happens there.
On the other side in Cincinnati, Coco Gauff won her first Masters 1000, and it's kind of amazing to think she's still only 19.
She's had a lot of expectation thrust on her simply because she beat Venus Williams when she was 15 at Wimbledon, which is admittedly quite the statement of intent. It's not her fault that ESPN or others devote so much coverage to her at the majors given that she's American and that's where the interest lies. Still plenty of time for her to make good on all of it. Looks like it might be rounding that way.
Oh, shucks, the Yankees are in last place...
Let's check in on the last-place Yankees, a phrase a lot of us will never get sick of writing:

The Bombers have lost eight in a row and are four games under .500. It's been a while since New York has counted on the Jets and Giants to save the NYC sports scene, which is not a position anyone should want to find themselves.
What's better than a custom No. 2 pencil bat?
We'll end on another Baseball Is Fun moment:

Can't wait until someone takes a magic wand or pool cue.
---
Follow Sam on Twitter @Felsgate and on Bluesky @Felsgate.bsky.social