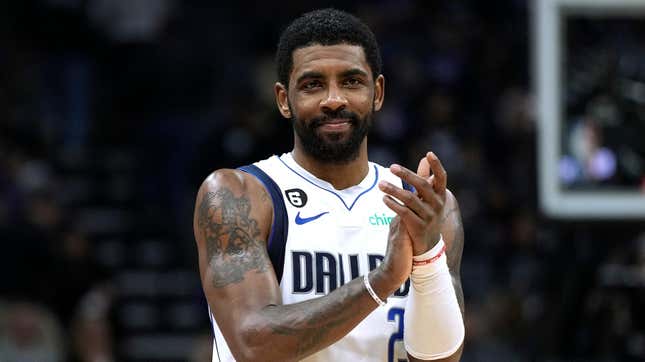 Luka Dončić and Kyrie Irving made their on-court debut as a duo Saturday night in Sacramento. The two combined for 55 points on 22 of 41 from the field, and an overtime loss, 133-128. De'Aaron Fox entered the fourth quarter with 10 points and finished with 36, getting wherever he wanted on the court with off-balance Mavericks in his wake, guarding air.

Will Kyrie and LeBron reunite in Dallas? | Agree to Disagree
Kings' backup announcer Kyle Draper kept screaming the result was Sacramento's biggest win of the year, but every W in that building feels like the biggest win of the year. When the fans weren't chanting "M-V-P" at Fox, they were pleading to "Light the beam." It was one of the best atmospheres for a random home game in February that I can remember seeing in a long time, and it's a reminder of how fucking difficult it is to play there when the crowd is engaged.
Sorry, I'll get to Dončić and Irving in a second. I'm not done gushing over the Golden 1 Center. The Kings are sitting in the three spot with 26 games left, two games clear of Dallas, and they've been the third most consistent team in the West.
It's a young group — Fox is only 25 — and who knows if they'll be able to hold off Phoenix or Dallas after the splashy trades they made at the deadline, but if Sacramento has home court in the first round, look out. Some unsuspecting opponent is going to find themselves in a battle and exert way too much energy for that early in the playoffs.
Dončić-Irving debut together
While Luka and Kyrie had no problem taking turns as one-man offenses, I'm concerned about the rest of the team. Those two took 41 shots combined; the other nine Mavs who got minutes attempted 50 shots between them. It was like when you join a pick-up run, and the two best players on the team only pass to each other.
There were moments of individual brilliance, as there always are with Dončić and Irving. The game went to overtime for a reason: it was competitive. Irving had a drive where he went right, spun back left in the paint, and banked in a left-handed floater while falling away from the bucket. It was the kind of shot that makes you break a controller when it happens against you in NBA2K.
At some point between now and the playoffs, those two are going to combine for a ludicrous scoring output, like 85-90 points in a 143-122 blowout. The points eruption is going to lead Sportscenter, and talking heads will use it to validate Mark Cuban's gamble.
We'll ignore the fact that they allowed 122 because defense is optional during the regular season. Dwight Powell, or 35-year-old Javale McGee, are Dallas' only centers/rim protectors on the roster, and rebounding will remain an ongoing issue.
I haven't even mentioned the inevitable Irving headache. And "not mentioning it" seems to be Dallas' approach, too,