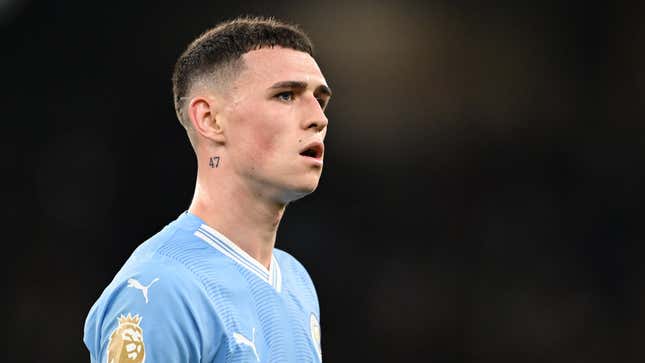 Hello again! This is the second iteration of something we're trying every Monday, wrapping up the Premier League weekend through five things we learned or liked or bothered us or confused us (we're always confused). Hope you like it, and if you do please share it around to that guy who supports the team you hate.
How running an NFL team is like running a restaurant | Chef Emeril Lagasse
Perhaps the most daunting thing, the most infuriating thing, about Manchester City is that it's really hard to pinpoint what player they could lose that would cause them to fall off the perch of being a soccer kaiju. Even if one were to excitedly point at Erling Haaland, because there is only one Erling Haaland in the world, the deflation comes quickly when it's realized that their No. 2 striker, Julián Álvarez, was 10th in the league last year in goals-per-minute on the field. There would be a drop, but not a Martin Sheen in the Departed one.
Kevin De Bruyne would be first or second on most people's list of players City can't lose, or as close as any player comes to being indispensable to them. He is the creative pivot point, and when City look contained he's the most likely to come up with something out of nothing and carve open a defense with one of those rapier crosses/passes that basically started the sweeper craze in MLB.
But what if City had another De Bruyne, except he's faster? They just might in Phil Foden, who destroyed Newcastle on Saturday afternoon in a 1-0 City win, looking completely untethered and free in a way we haven't seen him in a long while, if ever, playing in De Bruyne's spot now that the Belgian is out for five months.
City adjusted their usual look, with no John Stones around to shift into midfield with the ball. Kyle Walker, nominally at right back, bounced forward to form a block of four behind Haaland with Foden, Alvarez, and Grealish on the other side in a 3-2-4-1 kind of thing. And given the license to go wherever he wanted, do whatever he wanted, and not have to defer to De Bruyne, Foden ran the show. He assisted Alvarez's winning goal, completed 91 percent of his passes, created seven chances, and was successful on all three of his dribbles.
For visual reference:
What's so menacing about this is that Foden comes equipped with De Bruyne's vision, or close to it, but is so much more mobile. De Bruyne isn't an Easter Island statue (the Pirlo Method, if you will) but he's not this. Foden can pick out a pass but he can also dribble his way out of a jam or simply outsprint guys. There were times against Newcastle where it looked like City were just playing film of De Bruyne on fast forward.
It is dispiriting, to say the least, that City can just plug in one of England's most talented young players — somehow Foden is still only 23 — for the league's most gifted passer. That's what happens we guess when you pair the world's best coach with the world's richest club, though. They'll have answers for everything.
What else did we glean from Round 2 of the world's best league?
4. Let's all laugh at Bruno Fernandes's header some more
Do you enjoy watching Bruno Fernandes fucking up? Of course you do! You have blood pumping through your veins!
Fernandes is usually the barometer for United, and usually leads the pack when United look dynamite at home and seem totally lost when away from home, when they aren't actively quitting. Which they seem to do pretty often. Once Spurs went up in the second half, United never looked like they would ever get back into it. Which follows the theme, going back to their last few games away from home against the league's best, like: 0-7 at Liverpool, 0-3 at Sevilla, 0-1 at Brighton, 0-2 Newcastle, 2-3 at Arsenal when they got absolutely labeled and goofed two goals, 1-3 at Villa, 3-6 at City.
Fernandes is always at the head of this. When things are going well, he's doing stuff like this:
As soon as things go wrong he's bitching and moaning at everyone within 15 yards and then everyone not within 15 yards. If things are truly going wrong he'll pick up a yellow card so petulant you'd be ashamed if your 12-year-old did it. Was Fernandes taking any responsibility for his team's second-half el foldo? Guess:
Roy Keane definitely gets off on trying to paint any current player as some weakling that he would have eaten and shat out before training. But that doesn't mean he's wrong here:
3. If a Sean Dyche team can't defend, what are they?
Are Everton doing it again? They might be! They can't be called unlucky after their first game, where they piled up chance after chance but didn't make it count, because they started Neil Maupay up top. That's what you get when you do so.
In their second game, they went the other way, and rightly had their ass kicked up to their ears by Aston Villa:
(Jordan Pickford got a yellow for time-wasting before this penalty, a penalty he gave away.)
Off a throw!
Even MLS transplant Jhon Duran got in on the fun to make it 4-0.
Everton were able to barely survive last year because they kept just enough goals out of their own net. If this is how they're going to defend, and we know they won't score….yikes.
2. How did Chelsea spend so much money and still have no one who can score?
Ok, yes, Christopher Nkunku is hurt, and he would help the cause. But Chelsea have piled up nearly 4 xG in their first two games and have one goal from open play. Maybe this is what happens when you have to play Ben Chilwell as essentially a wide forward. And they're wasting the same false opening to a season that Raheem Sterling has made his specialty before he's booed by his own fans at the end of November. Nicolas Jackson makes all the right runs and looks dangerous, but so far no end product. They didn't even look dangerous against West Ham on Sunday after the Hammers went down to 10 men.
Speaking of which, is this the most brain-dead tackle to make when a player is already on a yellow?
1. More VAR fun
I'm biased on this one, but this is a joke of a straight red card for Alexis Mac Allister:
The ball is there, his foot is under said ball, and a player can't help but have his studs showing when trying to control a ball at that height. Christie's leg is in the air, this isn't on his standing leg which can cause the real injuries, and it's a coming together. Better yet, VAR doesn't even ask the ref to look at it. There were three or four more coming-together like this in matches that followed on the weekend that didn't even get a yellow. We have fun here.
Goal of the week
Kaoru Mitoma could have dribbled all the way to the North Sea if he wanted:
That's far too composed of a finish after one has run 50 yards with the ball at full speed. I wouldn't even be able to puke in a composed fashion, which I definitely would have sprinting that distance.
---
Follow Sam on Twitter @Felsgate and on Bluesky @Felsgate.bsky.social