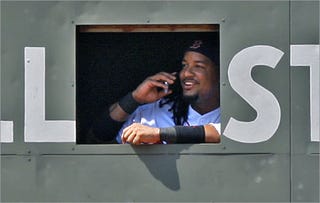 Boston Red Sox' left fielder Manny Ramirez once again showed off his goofball side during yesterday's shellacking of the Minnesota Twins, to the head-shaking delight of ManRam fans everywhere, after he took some time away from concentrating on baseball to eat up some overtime minutes.
According to the Boston Globe's Extra Bases, during the sixth-inning Man Ram climbed into the Green Monster to talk on a cellphone as Javier Lopez came in for Josh Beckett.
Compared to some of his other memorable antics, this is about a "4" on the Manny-being-Manny-ness scale, but you can't really blame him for getting a little bored out there during an 18-5 game. Maybe he was calling Livan Hernandez and offering him a pep talk? Or extending congratulations to his buddy Julian Tavarez on being picked up by Atlanta?
Manny's call from the wall [Extra Bases]