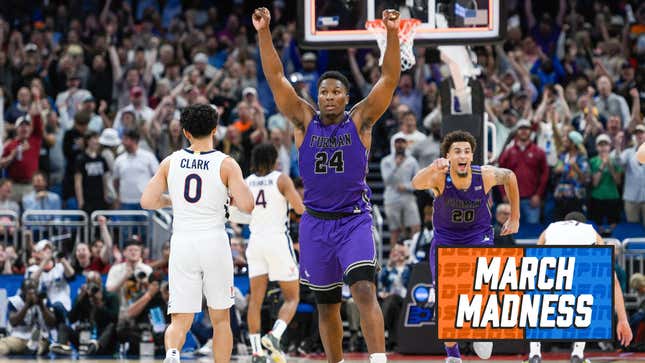 If you're like me — an NBA fan who pivots to college basketball for a few weeks in March — the best part of the NCAA tournament is the unknown. What I don't know about draft stock, a coach, a player, a team, or anything, makes the discovery all the more entertaining.

I wouldn't describe my bracket going the way of the Hindenburg as fun. No, it's more of a spectacle. There are unfamiliar faces (sometimes coached by familiar choke artists) just waiting to take out your bracket at the legs before it even learned to walk.
Any number of players, teams, or refs that will make you say, "Who the fuck is that?" Or "Is my Final Four pick really going to lose to a guy with an eyepatch?" And "Hold on, how is that an offensive foul?"
And that's what I'm tasked with delivering to you. I assigned myself something light and funny for March Madness, and since my "Best Gradey Dick jokes" idea was shot down, I bring to you the "You Gotta Be Shitting Me Team."
So in honor of lighting our collective entry fees on fire before all 64 teams have even laced them up, let's get started.