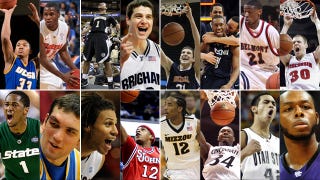 Read all our coverage of the NCAA Tournament thus far.

The Hater's Guide To March Madness | Everything to loathe about the 68-team field. A sampling: "Twenty-two Purdue graduates have gone on to become astronauts. Which is impressive, until you find out that the other 439,783 Purdue graduates have all gone on to become Driver's Ed instructors." Part I & Part II.

Buzzer-Beaters | Watch Morehead State, Temple, Butler, and Kentucky win in the waning moments of their games. And then watch Morehead State again and savor the fact that Rick Pitino just got metaphorically bent over a restaurant table.

Jimmy Chitwood In Hoosiers: An Advanced Statistical Analysis | Crunching the numbers for cinema's greatest basketball player and his Hickory High teammates.
Also: Watch The Tournament At Your Cubicle: A How-To | "One Shining Moment," With Animals
Tips
Have something to share? Check out the tips forum or email us at tips@deadspin.com.