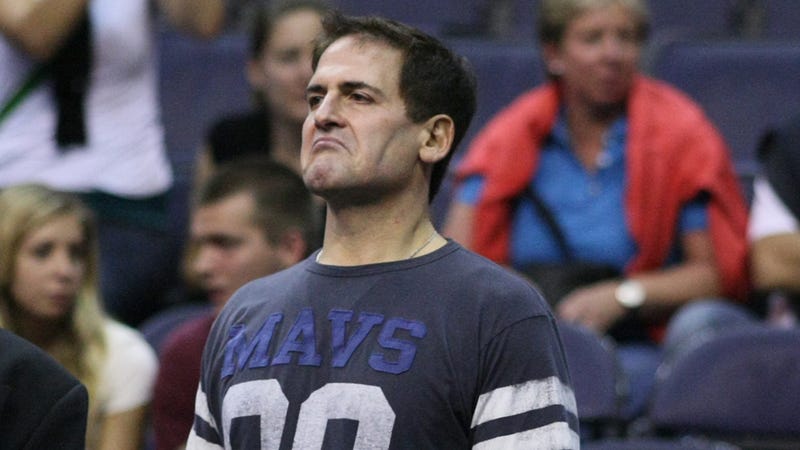 Cubes has been known to, from time to time, talk: sometimes about sports journalism, sometimes about WiFi capacity, and sometimes he just lets the pictures talk.
But, as Howard Beck notes in the New York Times, Cubes hasn't talked in a long while.
There might not be a more accessible, candid, extensively quoted owner anywhere.

Yet on the eve of the Mavericks' finals rematch with the Miami Heat, Cuban had gone silent. No blog posts, no boastful messages on Twitter, no provocative sound bites. He has not spoken on the record since early May. Dallas reporters have been greeted by an empty StairMaster.

Late last week, Cuban declined a reporter's request with a Twitter-length e-mail: "not doing any interviews."

The 2006 Heat-Mavericks finals were dominated by Dwyane Wade, officiating controversy and Cuban. This series, it seems, will be different.

"I think this time around, it's more about us," said Mavericks guard Jason Terry, one of two holdovers from the 2006 team. "I think he's tried to stay away from being a distraction, and it's working out for us."

This is, according to those who cover Cuban, the longest he has gone without speaking publicly since he took over the franchise in 2000.
The story goes on to note that Cuban may be tainted by the memory of the 2006 Finals, during which his response to the dubious officiating—and David Stern's ensuing $250,000 fine—may have overshadowed the officiating itself.
But we'd imagine it's mostly about superstition, and the perpetuation of the seeming good luck that brought the Mavs from good first-round upset candidates to the Finals. Which means, of course, that soon enough, he'll have no more reason to be superstitious. Cubes will crow again.
Still in Spotlight, Mark Cuban Steps Away From Microphone [NYT]