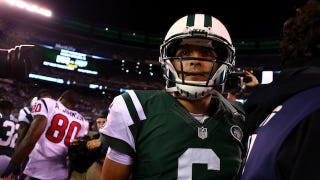 This is almost too good to be true. First, Tim Tebow let us know that last night was the 666th Monday Night Football game in history, and then Mark Sanchez went out and played like Mark Sanchez as the Jets fell victim to the Houston Texans.
And now this: after last night's game, Mark Sanchez's quarterback rating rests at 66.6. Not enough proof that Mark Sanchez is the prince of darkness? Take a look at the rest of his stats:
He's thrown six touchdowns, six interceptions, and his longest completion of the year is 66 yards. Oh, and let's not forget that he wears the number six.
The signs are everywhere. This can only end with Tebow and Sanchez battling for the souls of all mankind on a lake of fire.
h/t Robert