The Marlins have the worst home-field advantage in baseball, drawing a whopping 4,600 fewer fans per home game than the next lowest average attendance in the league. If you bring a harp to a Marlins home game and use it to play a soothing acoustic version of "Take Me Out to the Ball Game" during the seventh-inning stretch, it will drown out the volume of all the rest of the fans in attendance actually singing the song.
Jokic? Embiid? The NBA MVP is obvious... right? | Keep it a Buck(et)
Which, hey, good news! It sounds like next season you will be able to bring a harp to Marlins home games and use it to play a soothing acoustic version of "Take Me Out to the Ball Game" during the seventh-inning stretch:
This is actually pretty cool. The outfield section will reportedly be in right field, where season tickets will start at $8 a game. Marlins president of business operations Chip Bowers said the team took inspiration for the idea from a bunch of different sources:
"We really embrace the heritage around baseball and the heritage around people from Hispanic culture," Bowers said. "So bringing that same mentality we saw around the World Baseball Classic, we've seen around EPL games, MLS games in and around the U.S. How do we get that engagement buy in where people can proudly support their love for the Marlins and also for their particular culture?"
G/O Media may get a commission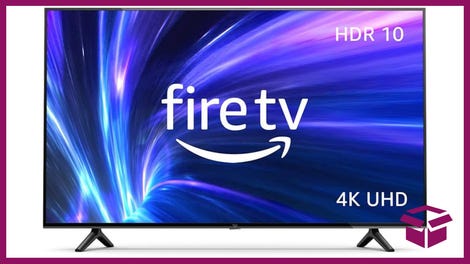 42% Off
Amazon Fire TV 50" 4K Smart TV
The Marlins are a flagrantly anti-competitive organization under Derek Jeter, but they deserve credit for rolling out some genuinely interesting initiatives. Earlier in August Jeter announced that his regime will require its English-speaking players and coaches and even executives to learn Spanish, in recognition that baseball is an international sport and learning to communicate across cultures is a shared responsibility, to say nothing of the basic fact that understanding more than one language is better than understanding only one language. This "Comunidad 305" section is transparently about drumming up interest in home games among local fans, but as gimmicks go it sure beats the hell out of, like, a Miguel Rojas bobblehead giveaway.

So the baseball will be shit, and the payroll will be insultingly puny, and the stadium will likely stay an echoey and mostly empty (but colorful!) boondoggle for the foreseeable future, but the organization will be bilingual, and nobody will miss your bitchin' guitar solo between innings. Rock on.