In July of last year, the District of Columbia and the state of Maryland together sued President Donald Trump for violating anti-corruption clauses in the Constitution. By maintaining ownership of his businesses during his presidency, the lawsuit said, states and foreign countries could gain sway over Trump by patronizing those businesses, particularly by having their dignitaries or other representatives stay at and spend money in Trump hotels.
That lawsuit is still ongoing, but a recent stay by the University of Wisconsin at the Trump National Doral golf resort in Florida could be another violation of the domestic emoluments clause, according to Maryland Attorney General Brian Frosh.
"Something like that is a problem, without question," Frosh told the Washington Post. "It's another example of how the potential for corruption is enormous."
When the Wisconsin football team, athletic department staff, and other university officials—about 250 people in total—went to Miami for the Orange Bowl in late December, they stayed in that Trump resort. The specific hotel wasn't a choice by the athletic department—the Doral resort was selected by the Orange Bowl Committee back in 2014—but it was paid for by the University of Wisconsin (at a price of probably around $100,000, based on the Post's estimation).
Trump doesn't manage his businesses himself since his election, but he does make money off them, and having his sons run things in his place doesn't exactly put him at a far remove. Because of his continued interest, by at least some readings of the emoluments provisions—which have never actually been tested in federal courts—Wisconsin's payment to the president's hotel could be considered an unconstitutional financial benefit.
G/O Media may get a commission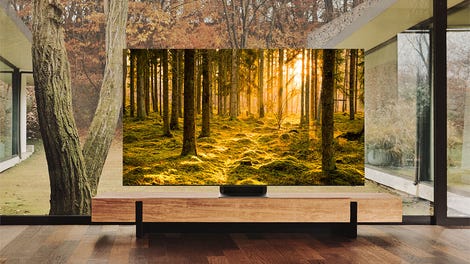 Up to 40% off
Samsung Smart TVs
Of course, it takes quite a bit of a leap to actually accuse Wisconsin of trying to curry favor with the President through hotel bribery, but the fact that these questions are even coming up is kind of a problem. Whether or not they're actually used for anything unethical, the fact that public universities—and, by extension, individual states, as well as foreign countries—have any kind of avenue through which they can put extra money in the President's pocket is very weird.