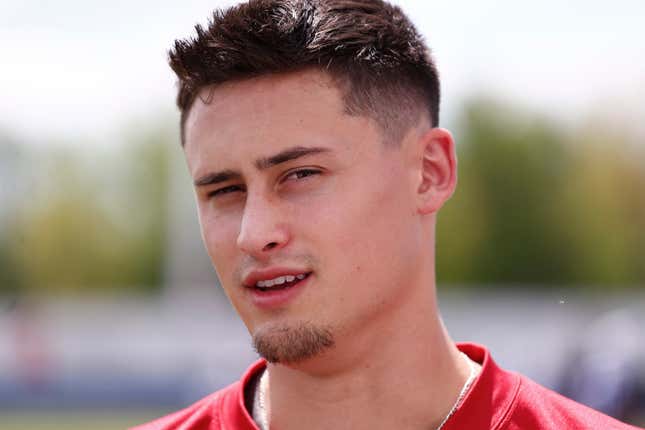 I don't want to offer a silver lining in the Matt Araiza case, because a woman was still allegedly gang raped, and the Punt God's reported innocence doesn't lessen the victim's trauma. However, in the year that it took to conclude the legal matter, did anyone miss Araiza? As much as his leg cannon can flip field position, it wasn't going to flip the Buffalo Bills' season, and that's the biggest reason he missed what would've been his rookie year.
"I can only hope that now people will assess me on the facts and not what was falsely claimed in both the civil suit and in the press," Araiza said, in part, in a statement issued to ProFootballTalk on Tuesday.
Where were you when Kawhi hit "the shot"? | David Boreanaz
Punters are on the field five to (hopefully not) 10 snaps a game, and in the grand scheme of an NFL campaign, no one pined for Araiza. The same can't be said for Deshaun Watson and Miles Bridges, whose alleged mistreatment of women earned them a year-plus away from their sports. (Watson has denied the allegations. Bridges pleaded no contest to a felony count of injuring a child's parent in exchange for three years probation and no jail time after allegedly assaulting his girlfriend in front of their two children.) While the Houston Texans, Cleveland Browns, and Charlotte Hornets were all worse off without their star players, who gives a shit?
Am I supposed to feel bad for Texans, Browns, and Hornets fans? They get their brains stomped in every year, so it was business as usual. Even if it wasn't, player absences — due to legal matters, injuries, or otherwise — take teams out of contention all the time, and leagues and clubs carry on with bottom lines intact.
The Los Angeles Dodgers sans Trevor Bauer are proof of that, and baseball fans' apathetic approach to the pitcher's extended absence should serve as a message to commissioners who act like their hands are tied every time an employee is involved in a dicey sexual or physical assault/mistreatment case. While a court didn't convict Bauer — who denied the allegations against him — of anything, his purported actions weren't acceptable in any century of human existence, and he just so happened to be in one that treats shitbags like him like the pariahs they are.
Every pro athlete is expendable
Every pro athlete on this planet is expendable. Sports are entertainment, and the stoppage during COVID showed that society could function without 97 MPH sliders, 75-yard punts, 50-yard scrambles, and rim-rattling alley-oops. Forgive me if I don't have the energy for people who shout, "What about the falsely accused?"
That sucks, yet I'd still rather err on the side of the alleged victims. I know it's not the way leagues have typically done things in the past, and the history of women being second-guessed every time they accuse a man of abuse is exactly the point. Mario Batali, Bill Cosby, Harvey Weinstein, Karl Malone, and countless other scumbags got MeToo'd for a reason. On Tuesday, a jury found the former president of the United States liable for sexually abusing and defaming a woman.
Donald Trump has to pay E. Jean Carroll $5 million as part of the civil suit, but he has slipped out of more than a dozen sexual misconduct accusations, and I don't think it's a coincidence that Trump lost the only one of them determined by a jury.
Well, the NFL, NBA, NHL, and MLB aren't beholden to due process or innocent until proven guilty. They could, and should, treat every situation as if the alleged perpetrator is a rookie punter. We've now seen an ace, a franchise quarterback, and a borderline all-star miss entire seasons, and none of their corresponding teams got relocated. Sure, Michael Jordan is in talks to sell his majority stake in the Hornets, but that's likely going to improve the team.
I don't feel bad for Bills fans, Matt Araiza, or the money he missed out on (but will likely recoup after Tuesday's revelations). The guy's job is to kick a ball seven times a Sunday for 17 weeks, yet he's not the only person who can be reduced to playing with balls for a living.
It's a privilege, not a right, to be a professional athlete.