Max Scherzer struck out 10 Marlins over seven innings of one-run ball Tuesday night to earn his 18th win of the season. The 10 strikeouts brought Scherzer to an even 300 on the season, the highest season total of Scherzer's prolific career and just the 36th 300-strikeout season in the majors since 1901.

The best sports movies according to Toheeb Jimoh
Scherzer has an outside chance of starting again on Sunday, in Colorado, giving him a chance at the relatively meaningless and arbitrary accomplishment of besting Chris Sale's 308 strikeouts from last season, the highest season total in the majors since Randy Johnson's 334 in 2002. Davey Martinez told MASN's Byron Kerr earlier Tuesday that Scherzer would get that last start if he wants it, but having now gotten to this milestone, who knows. I hope he goes for it.
It's worth pointing out just how much less likely this feat is now than it was in earlier eras. Scherzer is just the third pitcher to get there in the last 16 seasons, whereas there were 13 300-strikeout seasons over the prior 16-year period. This has everything to do with the way pitchers are managed now. 797 different pitchers have been used in the majors this season, before Tuesday night; that's 42 more than were used all of last season, and 105 more than were used in all of 2014, and 381 more than were used in all of 1986. More pitchers are being used in large part because starters are pitching fewer innings every season. Arm health is being monitored and managed like never before, but also analytic-minded teams are starting to drift away from the whole concept of bulldog starters. Chris Sale's 308 strikeouts last season came in just 214.1 innings pitched, the second fewest by a 300-strikeout pitcher in any season in the modern era, after (who else) Pedro Martinez's 313 strikeouts in 213.1 innings in 1999. Scherzer's 2018 season is roughly in that class—he hit 300 strikeouts in just his 220th inning of 2018.
G/O Media may get a commission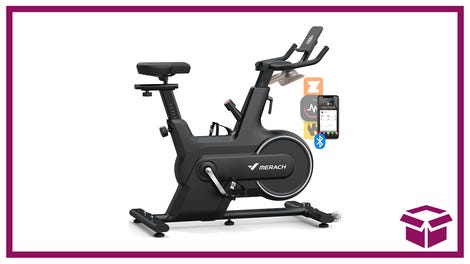 14% off + Coupon
Merach Indoor Cycling Bike
Nats fans tonight are sharing around an old report that said baseball executives ranked Scherzer as the worst free agent signing in baseball, and his massive, backloaded, $210 million contract as the most outrageous contract, in Jayson Stark's 2015 annual survey. It's worth pointing out that what the Nationals haven't gotten for their money is so much as a sniff of a World Series, and that however people feel about the signing tonight, they will probably feel differently about it when the Nationals are still paying Scherzer $15 million a season in 2027, six years after the part of the contract that mandates that he play for the Nationals has expired. The arguments against it in 2015—that it would be a Bobby Bonilla-esque financial burden past the point where Scherzer has moved on from baseball—stand a chance of looking much more persuasive when the Lerners are nickel-and-diming another successful manager six or seven years from now, and especially if the Nationals haven't at least made it to a World Series in that time.
But Max Scherzer isn't just a very good pitcher, he's a historically good one, and part of what the team paid for is this, these nights when Scherzer does something historic. The immaculate inning, and the 20-strikeout game, and the two no-hitters in one season, and the chance, every fifth game, to see someone who is very nearly as good at pitching as is possible. There's no salary cap in baseball, and the Lerners are extremely rich, and if they aren't paying through the nose for maybe the best pitcher of his generation, what the hell else are they doing. Also true baseball-knower Tim Marchman tells me this graphic says Max Scherzer is more than worth it:
This might've been Scherzer's best season in the majors, and that's really saying something. It's a shame it had to come in this crummy, lost summer for his team, but if there's been anything to redeem following this outfit in 2018 it's been Scherzer's consistent brilliance. And with the way he's performed in Washington, it would be silly to rule out that he'll find a way to be even better in 2019. The man is a machine.