For a nice cathartic kick, I recommend USA Today's Bob Nightengale's take on the Nationals' dumb but depressingly predictable firing of Dusty Baker, done via telephone Friday:

They didn't have the guts to fire him to his face, so they waited for him to leave town.

"They just told me they wanted to go in a different direction, that was it," Baker told USA TODAY Sports. "I'm surprised and disappointed."

"I really thought this was my best year. We won at least 95 games each year and won the division back-to-back years."

"It's hard to understand."

No, not really. It's the Nationals.

They have a history of treating their managers like garbage and lived up to the reputation once again Friday.
Jokic? Embiid? The NBA MVP is obvious... right? | Keep it a Buck(et)
It's worth pointing out here just what the Nationals accomplished with Dusty Baker as manager: they won 95 games in 2016 and 97 in 2017, and captured consecutive NL East crowns for the first time since the franchise moved to Washington. Yes, they flamed out in the NLDS both years, but it's unclear at this time whether that is, in fact, the result of an airborne disease in Washington, D.C., where no professional team has advanced to a conference finals in a long enough time that if I look up the exact number of years, I will follow it up by leaping off my roof.

The sad history of Nats managers is maybe slightly overstated by Nightengale, but not by much: no manager has lasted three full seasons in the 13 years since they moved from Montreal. You'd expect a lousy team to shuffle managers—and the Nationals were pretty lousy prior to 2012—but the Nationals have had three different managers in the six seasons since 2011, a span during which they've averaged 93 wins a year. That's not nothing, although the turnover is padded, somewhat, by the presence of Matt Williams, who was genuinely a buffoon and should not have been hired as the manager of a contending baseball team in the first place. That mistake is also on the ledger of the Lerner family and GM Mike Rizzo, even if they were right to move on.
But part of what makes this so frustrating is that they made the right decision to move on, and sure seemed to have made the right decision on a replacement! Baker is a credible baseball guy, and the Nats clearly stabilized under his leadership. And, if nothing else, he's a rambling and funny and plain-spoken old character, a far cry from Williams's forced Stern Baseball Cop routine. Teams don't trip and fall their way into 192 wins in two seasons, especially not with the injury luck the Nationals dealt with this year. They were good, and they were stable, and they won a lot of games. Baker clearly did something right.
G/O Media may get a commission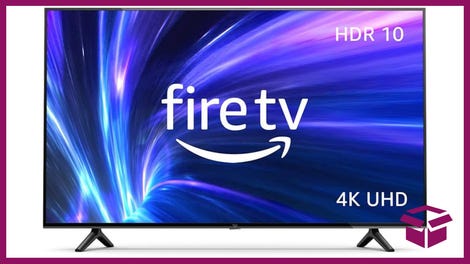 42% Off
Amazon Fire TV 50" 4K Smart TV
I am loathe, in the extreme, to ever direct attention to Thom Loverro of the Washington Times, but in this instance it's appropriate:
What the Nationals are within the industry of baseball is a laughingstock – and the dismissal of Baker only adds to that, because everyone in the business knows that this was an ownership driven move.

Rizzo, as he has so many times before, was the good soldier and took the hits for the Lerners, insisting to reporters on a conference call Friday afternoon that this "was one of the most difficult decisions that the ownership group and myself had to make since we've been here with Washington."

[...]

Make no mistake about it, the decision not to bring back Baker, who had been working on a two-year contract, was made by the owners—the Lerner family— and not Rizzo, who has been knee-capped by owners in nearly every managing decision.

He wanted Baker back at the start of this season and asked the Lerners to negotiate a contract extension. They said not now. They were dealing with cost overruns at their new West Palm Beach spring training facility. Rizzo asked them again in the middle of the season, and the Lerners said not now. They were upset about reports that Baker was grousing about his lack of a contract beyond 2017. And Rizzo wanted to bring him back after the Game 5 loss to the Chicago Cubs in the National League Division Series.

More than a week later, the Lerners said no.
Credibility around the league is less important than credibility among, umm, credible managerial candidates. Then there's this: sooner or later, the players in the clubhouse are going to receive the message, intended or otherwise, that the man holding down the manager position isn't all that important, and is easily replaceable. If the sticking point was, in fact, money, that's a stink that's tough to wash off, and will make the job of finding Baker's replacement all the more difficult. If frugality forces them to settle on another Williams, I will just light my home on fire and lay down in it.
And these are dumb chances to take given the (also generally overstated) scope of Washington's postseason failures: the Nationals outscored the Cubs 20-17 in their NLDS series, and outscored the Dodgers 24-19 in the 2016 NLDS—in other words, the Nationals have been pretty unlucky to not advance these past two seasons. Yes, they need to advance, dammit, but also, everyone needs to keep their heads. The Nats had a great season, for the second year in a row. That they happened to lose six of 10 games right at the end of those seasons is a vanishingly small sample size with which to make a decision of this kind of importance. They were a couple breaks from advancing—dumping their manager and nudging the organization into another period of uncertainty is an awfully strong reaction.
But most of all, as a Nats fan, I will miss having Dusty Baker around. Baseball season gets dry and tedious as shit as the summer drags on, and it will always be more interesting as long as Baker is kicking around the league, calling his star players by the wrong name and offering absurd and nonsensical tidbits of baseball wisdom. Thanks for nothing, Nationals.