Lets jump right into the dongs. Today we begin with Luke Skywalker and his scruffy looking nerfherder dangling between his legs thanks to reader Jeff. As always, be sure to support our dong endeavors and send in any would-be penises to the tips department.

Reader Eric sends in this adorable plush toy. As my grandma used to always say: even a stuffed squirrel busts a nut every once in a while.

This chicken finger dong appears to have a foot fetish. Thanks to Brandon for passing it along.

G/O Media may get a commission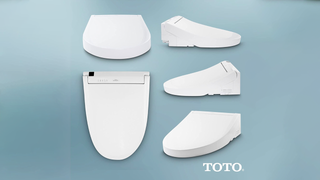 44% off
Toto Washlet Electronic Bidet Toilet Seat
Here's another fried food-dong courtesy of tyler.

Chris found this bumper sticker to be a bit donglike and suggestive. "Got Ridge," indeed.

Dave sends in our next submission and it appears to be some kind of kindergarten reward for drawing the best giraffe/dong representation. Congrats, Olivia!

"Foolmoo" passes along this oil spot he found in the parking lot of an insurance company's building. Figures.

Hot boy soup checks in again with another dong, this time a telestrator induced sword fight. En garde!

Here, we take a little detour from all the testosterone and acknowledge that Deadspin is an equal opportunity pseudo genitalia site. Jerry's wife noticed this baby-emerging-from-the-vag depiction on a bottle Johnson's. Ok, fine. So, there's a little dong sprinkled in, too.

Boston's Freedom Trail is apparently littered with dong-like structures like this one, submitted by Joel.

Justin brings us some more fruit snacks-dong. This one looks like it's even got the veins for some added realism.

According to Lars, this is a painting of a cat at his local coffee shop. With some floating dongs. Looks to me like the evolution of dong, with the first kind of primordial soup dongs eventually turning into the final erect dong.

This poor dog. Reader Matt should be ashamed for making fun of his friend's dog with a dong forehead.

Finally, Travis sends in a Cheetos dong. Finger lickin' good.