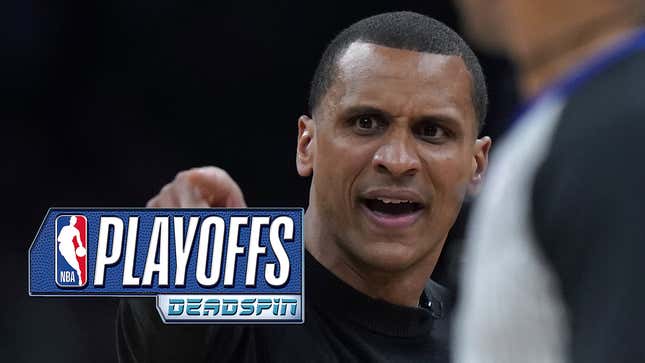 Joe Mazzulla versus Erik Spoelstra has been a lopsided showdown between two coaches with a devotion to film study. Spoelstra famously began his brilliant coaching career as a video coordinator with the Miami Heat in 1995. Joe Mazzulla is more of a pure cinephile. One of the more interesting peeks into Joe Mazzulla's closely guarded personality is that he apparently watches The Town four times a week.
Grant Hill looks to repeat Team USA's 2004 "success"
For the uninitiated, The Town is basically Good Will Hunting refurbished into an action thriller. According to Malcolm Brogdon, that ride-or-die mentality has become a mantra for the Celtics this season.
After Boston's Game 7 over the Philadelphia 76ers, Mazzulla wore a "whose car we gonna take?" to the postgame press conference, a reference to a scene where Ben Affleck's Doug informs his pathological violent confidante Jem that they're about to hurt some people and to not ask questions. Without hesitation, Jem's only response was to ask about the car. Jem was the definition of "stay ready, you ain't got to get ready."
If only Mazzulla had been able to instill that in the Celtics. After Game 3's miserable blowout, the Celtics could dive into video and dissect what went wrong, or throw away the tape, rewatch The Town armed robbery chase scene, and return reinvigorated. Unfortunately, Mazzulla may have picked the wrong Affleck movie to unify the Celtics with. The Town is part of the Sad Affleck collection. Despondent Affleck is the Patron Saint of Boston Sadness. In Beantown dialect, the name directly translates to Ben Ah-fuck, which succinctly describes the hole these Celtics find themselves buried in.
When the Celtics are winning, their fans are the smug personification of Red Auerbach smoking a victory cigar. But a crestfallen Celtics ecosystem realizing their season is likely over after marching in with a 97 percent chance to defeat an 8-seed, according to ESPN Analytics, ranks highly on Boston's scale of misery.
And the early returns on Mazzulla have Boston in a tizzy. On several occasions during this postseason, Mazzulla has opted to hold onto timeouts during runs by opposing teams rather than halting momentum. Against Philly, Mazzulla admitted to costing Boston Game 4 on the road by not using a timeout to set up their final possession. Spoelstra's infamous 2-3 zone has the offense flustered and Boston's stars can't find a rhythm. Miami's zone has Jayson Tatum and Jaylen Brown pinned down worse than Jem getting stuck in a shootout with police after The Town's climactic heist went bad. Suffice to say, it did not end well.
Miami won the first two games in Boston, then returned home to South Beach with an enlivened supporting cast. Bam Adebayo and Duncan Robinson were feeding off each other with a prime D-Wade and Shaq-like chemistry, Cody Zeller was using his stubby wingspan to pin shots against the backboard, and Caleb Martin again went berserk in his minutes. Jimmy Butler only needed to chip in 16 points.
Boston responded after halftime with as much urgency as The Town cop who stumbled upon them fleeing and wisely looked the other way, trailing by over 30 at one point in the second half. During the final quarter, the Celtics' bench became a mausoleum as the Heat continued pouring it on their reserves.
On the Ah-fuck misery scale, losing Game 1 was a minor annoyance on par with Affleck pondering his existence while listening to a question pertaining to Batman vs. Superman's horrendous reviews, Mazzulla's Celtics showing up unprepared for Miami when they were primed to finish the job in these finals is Affleck wistfully staring into the ocean on a gloomy morning.
During his postgame media availability, Mazzulla directed the blame inwards. "I just didn't have them ready to play," Mazzulla said in his presser "I have to get them in a better place to be ready to play, and that's on me." This series is a low point and Game 3 is rock bottom.
If anything, Spo's growth is a testament to sticking by a young coach through turbulence. Over a decade ago, the league-wide sentiment was that Spoelstra's inexperience was hindering the LeBron/D-Wade/Bosh Heatles ascendance. When the Heat lost in 2011 to the Mavs, those murmurs grew louder. That all changed as Spoelstra helped usher in the positionless era over the next three years.
However, Spoelstra's situation in 2010 was not nearly as sensitive as Mazzulla's. For one, Mazzulla was a last-minute replacement for Ime Udoka, who was suspended just before training camp. He's tried to put more of his imprint on the offense but at the expense of Udoka's historic defense. For Game 3, he started Derrick White and moved Robert Williams back to the bench, which was a lineup change the team had been clamoring for all season until Game 6 of the semifinal series against Philly.
Most importantly, for over 15 years, the hallowed Celtics have been trying to return to that championship summit, and the jagged bumps in the road since then have made them more agitated than ever. Losing this series is a formality. The NBA has never had a bloody sock moment ala the '04 Red Sox. We've seen this script 149 times before. No team in NBA history has ever overcome an 0-3 deficit. Mazzulla is walking on a razor's edge and on the verge of being run out of town. One way or another, the Celtics are heading back to Boston. Mazzulla just has to discover how to get some fight in them to force a Game 5. Easier said than done.
---
Follow DJ Dunson on Twitter: @cerebralsportex