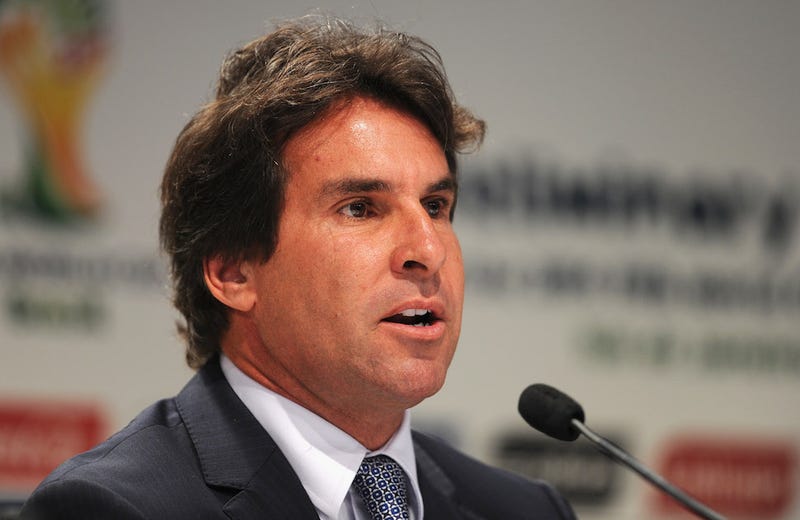 Brazil play Colombia today in the World Cup quarterfinals. Their communications director, Rodrigo Paiva, is making headlines of his own after earning a one-game suspension for punching Chile's Mauricio Pinilla during a half-time dust-up.
Rodrigo Paiva was enjoying himself—dressed in a casual white T-shirt and shorts, and sitting on a UN tank as the wind gently whiffled past. Ronaldinho sat to his right, with his friend Ronaldo slightly in front. They all waved at the adoring masses who lined the streets of Port-au-Prince, Haiti.
For once, the UN 'Blue Berets' were not there to maintain law and order. The poor inhabitants of the city and its downtrodden streets were still reeling from the violent revolt against President Jean-Baptist Aristide months earlier, but, now, in August of 2004, they were enjoying a football carnival. Brazil were playing a game against Haiti, and the Haitians dressed in Brazil shirts and climbed every possible object—from trees to excavators—to catch a glimpse of their heroes. They danced and sang in the streets as the Brazilian delegation made its way from the airport to the tiny Silvio Cator stadium.
The game's slogan was "They play, peace wins." Truthfully, that had not been Paiva's design, but he was secretly proud, because this bit of football diplomacy to promote peace and reconciliation had been his brainchild from the start. And it paid dividends for his boss, Ricardo Teixeira, the president of the Brazilian Football Confederation (CBF). With Brazil having just won the right to host the 2014 FIFA World Cup, Teixeira needed an in with Brazil President Luiz Inácio Lula da Silva. By facilitating negotiations between the Brazilian FA, Brazilian government, the UN and Haiti's interim-government to organize the game, Paiva unlocked the gates of the 'Planalto,' the Brazilian president's official workplace in Brasilia, for Teixeira.
"Football is magic," Paiva reflects on the game in Haiti. "The Haitians were living in the middle of the garbage and the trash. Brazil is bad, but I had never seen anything like this. It was the biggest experience of my life." His account held a whiff of self-congratulatory PR. Indeed, at the age of 40, Paiva was already a master of marketing and promotion.
But in many ways, his ultimate test—and glory—has been this World Cup in Brazil. Paiva, officially the Director of Communications for the Seleçao Brasileira, is effectively the No. 2 man at the CBF. Mostly working from the shadows, except for the journalists who jostle to hang at his coattails, Paiva is the one orchestrating the Seleçao's campaign and image to the outside world, in what is undoubtedly the team's most crucial World Cup since the nation last hosted in 1950. It has been a meteoric rise for the one-time journalist-in-training, though not an entirely unexpected one.
Leblon and Ipanema, affluent hamlets in Rio de Janeiro's south zone, formed the backdrop to his protected childhood. In the 1980's, Paiva was a fervent rower and nurtured professional ambitions at the Flamengo club. There, he met and courted Marcia Braga, the daughter of Flamengo president Marcio Braga. When Marcia suggested that her father employ Paiva, who was studying journalism at Rio's private Hélio Alonso University, as the communications advisor of Flamengo, Brazil's biggest football club, Marcio duly agreed.
Paiva produced press releases, presided over press conferences, and in general tended to the media's needs to stoke the lust for Flamengo news. But he also developed a knack to personally assist star players, including Júnior, Renato and Romário.
In 1999, Paiva became the personal assistant of Ronaldo, Brazil's and Nike's boy wonder, and his new role came at a crucial time. A year earlier, Ronaldo had had fallen from grace amid a controversial performance in a World Cup final loss to France. A mysterious seizure led to him being scratched from the lineup, only to be reinstated shortly before the match. Ronaldo's play was lacking, and a host of conspiracy theories were spawned, with one popular one stating that Nike had forced its most valuable asset to play to protect its brand's interests.
Paiva had uneasily observed these ordeals from a distance. He thought Ronaldo suffered from stress and pressure, and he felt the Nike rumors were nonsense. While Paiva tried to rescue Ronaldo's dwindling career and implored his new client to become a United Nations Ambassador, the postmortem of Brazil's 3-0 humiliation by 'Les Bleus' had become a matter of courts and the senate. "The Brazilian Football Confederation (CBF) is truly a den of crime, revealing disorganization, anarchy, incompetence and dishonesty," Senator Alvaro Dias said in 2001. The investigation wanted to get rid of the CBF's unsavory characters, but Paiva didn't heed Dias' words and instead became the CBF press officer.
Fast forward to 2014. At Granja Comary, Brazil's base camp during the World Cup, Paiva stood tall in his dark blue blazer, shirt and dress shoes. The press center's tent was jam-packed, with Paiva controlling the 1,682 credentialed journalists who make up 'Circus Brazil.' As David Luiz and Marcelo wrapped up their press conference, Paiva decided to taunt the press ahead of Brazil's final group game against Cameroon. "If you want closed training sessions, all you need to do is ask and we will do it," he said.
Veteran reporters Osires Nadal from Rádio Manchete and Mártin Fernandez from globoesporte.com immediately flocked to Paiva. 'Why do you want to close the training session?' 'What time do the players generally show up for breakfast?' "E da brincadeira [It's a joke]," Paiva replied. "Well, I think they are used to sleeping late, we see them around lunchtime."
Paiva adhered to a policy of 'Divide and Conquer' to manage the intrusive 24/7 Brazilian press, but Brazil's mighty network Rede Globo ranked in front of competitors like Band, Fox and ESPN in the pecking order. Since 1970, Globo has acquired the broadcasting rights for the World Cup every four years. When Teixeira, who protected Paiva, succumbed to corruption allegations and insurmountable public pressure in March of 2012 to resign after 23 years in charge of the the CBF, anonymous whispers said that Globo had saved Paiva's job.
The CBF had long functioned as Teixeira`s personal property, ensuring him all the benefits that come along with administrating Brazilian football, and more. Days after his resignation, a Swiss court disclosed that Teixeira had taken £8.4 million in bribes from the sports marketing firm ISL, which handled the sale of lucrative World Cup rights until it was declared bankrupt in 2001.
But Teixeira's questionable legacy to Brazilian football extended well beyond wide-spread corruption within the CBF. Teixeira, in past times a close ally of Sepp Blatter, had also presided over the Local Organizing Committee of the 2014 World Cup.
After Teixeira was ousted and fled to the U.S., suddenly, Paiva was vulnerable. Jose Maria Marin took over as president—another self-serving autocrat in the administration of Brazilian football. But as a Paulista, a gentilic from residents of São Paulo, Marin felt he didn't have Paiva's loyalty.
Paiva, sensing danger, acted swiftly. He created his very own safety net, wining and dining in upscale Leblon restaurants with powerful journalists, including with Rodolfo Fernandes, the late editor-in-chief of Rio's main newspaper O Globo. His survival strategy worked, but his position, for the time being, remains precarious. Marco Polo Del Nero is waiting in the wings once Marin's mandate ends in 2015. Del Nero is another Paulista, with a dislike for Paiva.
As Paiva would tell journalists, with his disarming Carioca flair, "E ai, Guerreiro?" It translates to, "And now, warrior?"
---
Samindra Kunti is a contributor to Howler. Follow him on Twitter, @samindrakunti.
Screamer is Deadspin's soccer site. We're @ScreamerDS on Twitter. We'll be partnering with our friends at Howler Magazine throughout the World Cup. Follow them on Twitter,@whatahowler.
Photo credit: Getty