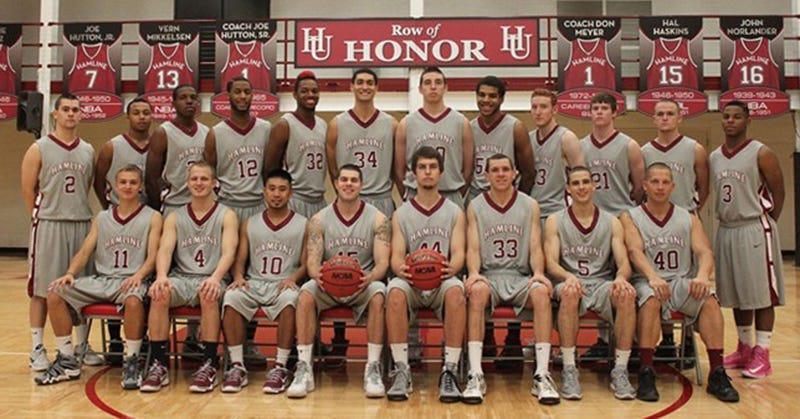 Officials at Steubenville high school, in particular head football coach Reno Saccoccia, have rightfully drawn criticism for their inaction in the wake of charges brought against two Steubenville students and football players for allegedly sexually assaulting a female student from a nearby school. Though those two students were suspended for the season, many who witnessed the assault and failed to stop it were permitted to play, including some that had essentially live-tweeted the incident as it unfolded. Hamline University, a small school in St. Paul, MN, is not playing that game: After a woman accused a Hamline basketball player of assault and his teammates of a negligent response, the whole team is tabled pending further review.
According to an affidavit filed with the Spokane County Clerk's office and obtained by the Star Tribune, an officer responded at 3:54 a.m. on Jan. 1 to a report of an assault at a Spokane hotel. The victim, Kayla Bray, 20, said she had been punched in the face by a black male with a beard identified as [Hamline's Eugene] Lawrence. Bray was taken to a hospital, where a scan showed three facial fractures. The officer found Lawrence at the hotel and took him to the Spokane County jail, where he was charged with second-degree assault.

KXLY-TV in Spokane reported that Bray met up with Hamline player Tyler Pannell, a high school classmate of hers, after the game and gave him a ride to the hotel.

Bray's father, Steve, told the television station that Bray and Lawrence got into an argument. Lawrence then punched her, knocking her out.

After Bray regained consciousness, Lawrence and other members of the Hamline team allegedly refused to escort her to the hospital because it was past their curfew.
Hamline "suspended its head basketball coach indefinitely, dismissed one player from the basketball program and suspended 14 other players for unspecified lengths of time" in connection with the assault. This is clearly a different situation than the one unfolding in Steubenville, where high school football is one of the last sources of town pride—though Hamline is proud of its basketball team, which, per Wikipedia, lost the first intercollegiate basketball game ever, 9-3—and a more closed-off culture has led the town to circle the wagons in response to outside media attention. Disparities aside, however, this case offers a reasonable model for a school's first response to assault allegations related to an athletic team: Suspend everyone and sort out the details after review.
Picture via.
Assault Case Sidelines Hamline Men's Basketball [Star Tribune]