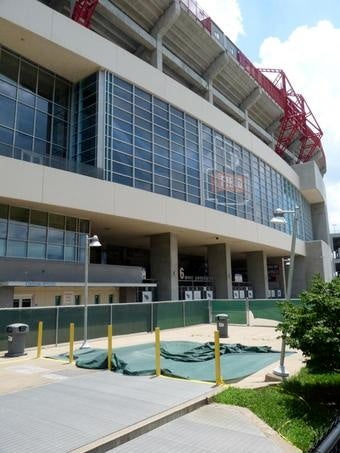 LP Field just cannot catch a break. After workers finally cleared out all the troublesome floodwater, a 5- to 6-feet-deep sinkhole was found at the stadium. It has something to do with "substandard materials" that are not Vince Young.
The sinkhole was discovered in the concrete plaza outside LP Field. While exacerbated by the flooding, it was likely the result of questionable contracting practices; according to the general manager of LP Field, Wayne Overton, "substandard materials such as dirt and wood [were] found beneath the concrete plaza." In a meeting with the Metro Sports Authority executive committee, Overton warned that "other areas may have been similarly constructed and could be at risk."
Making matters worse, because the sinkhole was not a direct result of the flood, the stadium is going to have to foot the bill for an engineering assessment and whatever repairs the hole will require. You may unpack this allegory however you see fit.
Flood reveals sinkhole at LP Field [Nashville Business Journal]