Taylor Buchholz—who was actually decent in 26 relief innings for the Mets this year—is on the DL with depression. This is not altogether unusual: note Khalil Greene and Dontrelle Willis. What's unusual is the way Buchholz described his condition and the way AOL Patch explained his condition further.
Jokic? Embiid? The NBA MVP is obvious... right? | Keep it a Buck(et)
To wit, via Patch:
He didn't want to look in the mirror that morning. He'd been floating by mirrors for some time now, his reflection a shadowy distortion. He didn't like the face he saw, either. He didn't like what he was becoming.

He reached for the stubble on his chin as he dragged his feet across the natty hotel room rug that morning, eyelids half-mast and not too eager to begin a new day with a hot shower. He hated the dark place where he was; only he didn't know he was in a dark place. Maybe today will be different, he tried to convince himself. Maybe I'll look forward to going to the ballpark and throwing again, he thought.

That's when Taylor Buchholz hit his nadir.

He had no idea what was coursing through his body. But something gripped him. Clutched him hard. His joints locked. He couldn't stand. Buchholz remembers bracing himself up against the bathroom tile of the shower stall and realizing the water falling from his face wasn't coming from the showerhead. They were his tears.
Oh man. No, Taylor Buchholz could not possibly have collapsed in a shower, crying, thinking his tears were actually water from above. That did not happen. The ABC After School Special producers would reject this pitch for being too melodramatic and leaden. Patch's scribe, Joseph Santoloquito, writes like he's auditioning for the next Cymbalta campaign.
More, from Buchholz's mouth:
"But when I think back on it, maybe it was a sign that the team psychologist [Ron Svetich] was there in Modesto when I broke down. I saw Svetich the day before in the clubhouse and I remember him asking me how I felt. I told him I was great. I lied to him. Then the next morning, I was showering, and I broke out into this crying fit. When I went back to the clubhouse later that day, I pulled Svetich aside."

Buchholz then proceeded to explain to Svetich what was going on, the pangs of anxiety, the heart palpitations, the nervous twitches, and wild muscle spasms he was experiencing. It was just Buchholz and Svetich speaking to each other alone in an empty dugout, hours before game time, when Buchholz was struck again …

"I literally broke down right then and let him know everything," Taylor recalled. "It was one of the most embarrassing moments of my life. I'm there crying to another man. But Svetich recognized there was a problem. He was fantastic and someone that helped me get through this. At that point, I didn't want anything to come out, because I was totally embarrassed about it. I'm a man's man who's supposed to be tough and not breaking down into tears for no reason. I didn't feel like a man, I've been the one that's been the rock in my relationships."
G/O Media may get a commission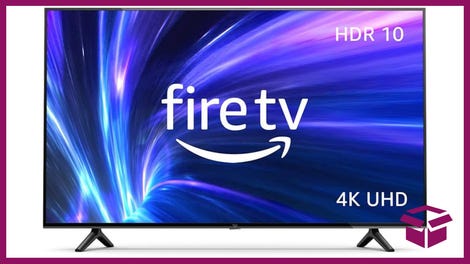 42% Off
Amazon Fire TV 50" 4K Smart TV
Of course Svetich, a competent physician making accurate diagnoses, was the Rockies' team psychologist, not the Mets'.
But I digress. Lost in this oversimplified macho/sissy dialectic, I imagine, is a compelling, rarely told, story about what happens when you grow to hate the only thing you're good at, the game that became a hefty meal ticket. Silent Season of a Hero stuff. Instead, it's Good Will Hunting deleted scenes. Oh well.
Dealing With Depression On A Major League Level [Springfield, PA Patch]