Every morning, the fine folks at Sports Radio Interviews sift through the a.m. drive-time chatter to bring you the best interviews with coaches, players, and personalities across the sports landscape. Today: This news should not surprise you in the least.
Metta World Peace joined Dave and Jeff on XX Sports Radio in San Diego to discuss the stacked Lakers, their preseason performance thus far, his prediction that the team can win 73 games, and the arrival of newbies Steve Nash and Dwight Howard. But before that, the outgoing forward formerly known as Ron Artest spoke about his latest film role.
On how he got involved in the film he stars in that's set to premiere next month:
"I met Nancy Grace on the set of 'Dancing with the Stars,' and … she really liked the way that I was acting on the show, which is acting kind of silly. But I'm a pretty decent actor and she just picked me for the part. I was like, 'Wow.' There was no way I was turning it down."
On if acting is his next career:
"I think so, yeah. I've got a couple of other movies that I've done and a couple of other pilots that I've done. I did like six movies last summer, all independent movies. And they're all coming out back-to-back now. They're all different roles."
On his role in this film:
"I'm definitely a big part of it. I'm one of the lead actors in the movie. It's a two-hour movie. And I don't know how I got a chance to have a lead role so fast … it's great."
G/O Media may get a commission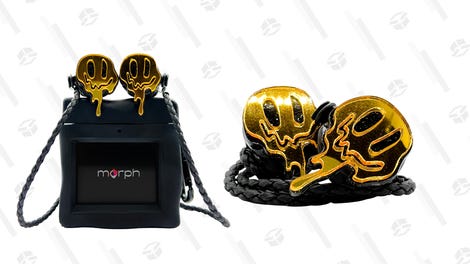 morph audio
Morph Earphones
On this year's star-studded Lakers team:
"It's kind of cool for the fans to be able to see an All-Star cast on one team every single night, and you don't have to wait til All-Star weekend. You can just watch the Lakers."
On if he's nervous that the Lakers haven't won a preseason game considering he predicted they could break the regular-season wins record:
"Not really, because the games in preseason don't really count towards our wins in the regular season. So I'm not really that nervous."
His reaction to the team bringing in both Steve Nash and Dwight Howard in the offseason:
"I thought it was cool. From last season I was like, 'I don't know how that's going to happen.' But the Lakers made it happen. I think a lot of guys like to play in L.A. anyway, so I think that's one of the main reasons it was able to happen."
This post, written by Brad Gagnon, appears courtesy of Sports Radio Interviews. For the complete highlights of the interview, as well as audio, click here.
More from Sports Radio Interviews
• Jay Cutler says Ndamukong Suh's hit was clean.
• The Cowboys' plans won't change with Sean Lee out.
• George Karl thinks the Nuggets are good for at least a four-seed.