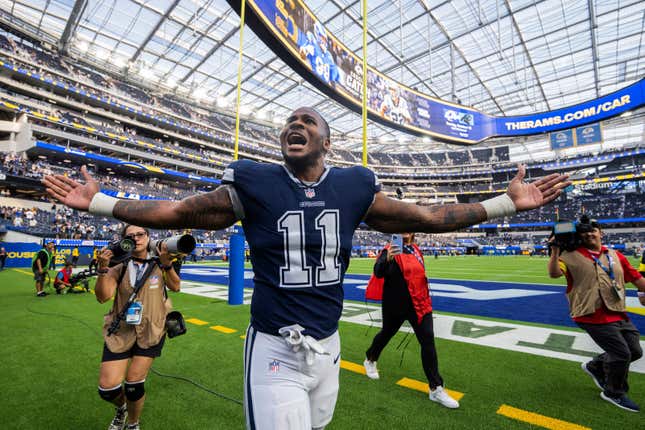 Micah Parsons will be doing what he does best for the Dallas Cowboys full-time during the 2023 season — rush the passer. Surely he will be depended on to use his linebacker skills to stuff running plays and drop into coverage from time to time, but his main job will be to chase after opposing QBs.

Minshew on Aaron Rodgers' level? Really? | Stats That Will Blow Your Mind
Parsons is using this offseason to bulk up the can he is able to consistently hold his own against offensive tackles. He has already put on five pounds of muscle and is also doing boxing workouts to help with his hand fighting.
"Just trying to stick in the run," Parsons said via Calvin Watkins of the Dallas Morning News. "It's hard battling 300-pound guys at 255 pounds every week. So I'm just trying to put on five pounds of muscle, just eating right, and living right."
I assume his workout goals allow for cheat days, such as when he attends Philadelphia 76ers playoff games. Chicken is part of a balanced diet for any professional athlete. The wings at Wells Fargo Center, though? I'm not sure if a private chef would prepare chicken the same way for Parsons.
The regular season is still four months away, so some sauce and blue cheese won't hurt. Especially when he is working out with Ja'Marr Chase and able to keep up with the Cincinnati Bengals' explosive downfield target.
During the 2022 season, Parsons made first-team All-Pro for the second consecutive season. Once again, it was largely due to his performance as a pass rusher. He recorded 13.5 sacks and tied Defensive Player of the Year Nick Bosa for most pressures in the league.
In order to record 90 pressures in a 17-game season, Parsons must be more than a 25-hour-per-week pass rusher. Last season he lined up at defensive end on 81 percent of his snaps. A massive shift from his rookie season when he spent 57 percent of his snaps playing linebacker.
While contact on a quarterback in the pocket these days is limited to between the navel and breastbone, applying pressure on one is still the best way to play defense. That is the reason a defensive player who quarterbacks have to constantly worry about is worth a fat nine-figure salary.
This move to full-time defensive end will be done to help the Cowboys' defense, but it is also going to greatly strengthen Parsons' bank account. Roquan Smith's 5-year $100 million deal with $45 fully guaranteed is nice, but T.J. Watt's $80 million guaranteed when his agents believed they could get even more is what Parsons will be after when it comes time to negotiate with Jerry Jones.
The Cowboys' best defensive player will be utilizing his best skillset all of the time next season. His versatility will be used as a luxury, but speeding up quarterbacks' internal clocks will be his primary concern come autumn.