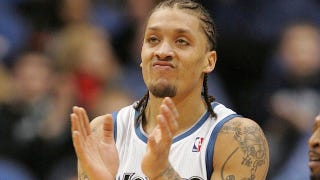 Michael Beasley is one of the few NBA players who might actually manage to be more interesting when he's not playing professional basketball. Since the NBA lockout began, he's been cited for speeding and for marijuana possession, and he "mushed" a heckler during a game at Dyckman Park in August. This man needs a reality show.
But now it's October, and Supercool Beas is shedding his leaves and starting anew. He's doing yoga and pirouettes and he's organizing exhibition games (it's plausible that he's doing it all stoned). From the Star Tribune:
He has played with childhood pal Durant and Wall in exhibition games across the country and also has incorporated elements of yoga, karate and, yes, ballet into summer workouts intended to make his body stronger, more limber and help ensure a long, productive career. He has dropped about 15 pounds after playing last season at 240 pounds.

"I don't really dance," he said. "I do it for the stretching."
Sure, sure. And the weed is just for muscle cramps.
H/T SportsGrid.
Beasley pursues an image makeover while filling a basketball gap [Star Tribune]