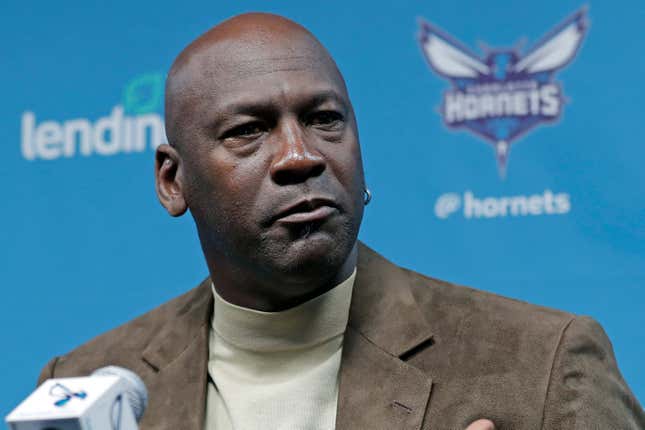 It turns out he is human. With Michael Jordan completing his sale of the Charlotte Hornets on Friday, his report card as the majority owner of the team can officially be stamped with a big, red "FAIL."That said, MJ's biggest flaw wasn't draft history, or front office acumen, it was the choice of franchise. Buying the team formerly known as the Bobcats is the equivalent of purchasing a stake in Blockbuster.
Grant Hill looks to repeat Team USA's 2004 "success"
Yes, congratulations on your 53 percent share of Looney Toons. Foghorn Leghorn will be with you shortly to help with scouting. I'm not here to disparage the fine people of Charlotte, because MJ could've invested in any mid-major franchise, and the results would've been the same. Be it Portland, Milwaukee, Oklahoma City, Indianapolis, Sacramento, or any of the other non-destination destinations, it's damn near impossible to be successful organically and consistently.
Yes, the Bucks hit on Giannis Antetokuonmpo, but it's easy to go starless like the Pacers or Kings, and the way the Bobcat/Hornets managed its payroll and roster under Jordan, the franchise never really bottomed out. The ultimate competitor being too competitive to tank was the least surprising development during Jordan's reign, and sadly that translated to a lot of botched signings and misused cap space.
Kemba Walker was the best player the organization had in the past 12 to 13 years, and building around him went about as well as you'd think. Small market teams can only retain and attract free agents by overpaying them, and that's how you end up with debilitating contracts like the five-year, $120 million deal Nicholas Batum inked that team finally got off of three seasons after he left the Queen City.
LaMelo Ball is the biggest "star" the team has on its roster, but his Airness won't be the majority voice calling the shots. He still has a minority stake in the team, but any future success — including what they do with the No. 2 pick in this year's draft — won't be attributed to Jordan.
He never made the kind of shrewd business decisions as an owner that inspire Matt Damon and Ben Affleck to make movies, and MJ's hesitancy to take steps back in order to go forward is the main reason why the team has been in purgatory for more than a decade. This year will be the highest the front office has drafted since it took Michael Kidd-Gilchrist at No. 2 in 2012, and if you're going to be selecting in the late lottery year-in and year-out, you have to nail those picks — which Charlotte objectively did not.
The closest they came to scoring a franchise-altering guy outside of the top five was 2018 when they took Shai Gilgeous-Alexander, but traded him to the Clippers for a couple seconds and the rights to Miles Bridges. Obviously, every team in the league would take SGA over Bridges, and even though Charlotte didn't completely whiff, history made sure they were on the wrong side of it.
It's admirable that the Bobcats/Hornets never unapologetically tanked like other plucky small markets have done recently, but there has to be a culture, coach, and GM in place to make up for it and get guys to overachieve.
For whatever reason, that never materialized in Buzz City, and how much Mike's at fault for demeaning his guys' confidence during games of one-on-one, or re-hiring Steve Clifford, is in the eye of the ticket-holders. I'm not here to give MJ a pass for banking on Frank Kaminsky over Devin Booker, or Malik Monk in lieu of Donovan Mitchell, but I'm also not going to act like small-market franchises ever enter an offseason with leverage.
While Charlotte pretty much never spent its cap space or draft capital wisely, Jordan at least tried, and that's more than I can say for a lot of owners.