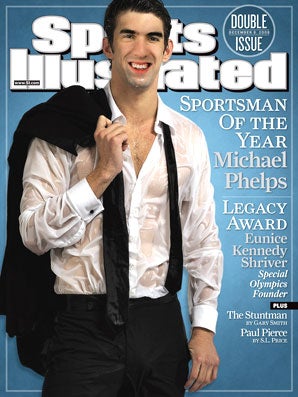 In case you haven't heard, Olympic water boy Michael Phelps is SI's "Sportsman of the Year" this year, for his astounding 8 gold medals in Beijing. It's not a surprise pick, really, leaving most of the scrutiny for Phelps' spooky-ass Terri Schiavo face currently seen in the online version. According to one person on the SI online staff, the print issue cover doesn't look like it was photo-shopped by someone inhaling keyboard duster, but is actually very clean looking. This one, however, was not spared: "A lot of the times, we work with pictures in photoshop before we put them on the site – do things like lighten, darken, sharpen, etc. to get it to look as clean as possible. Perhaps this pic was overly lightened or sharpened." Yes. Perhaps.
Anyway, if anyone would like to see Phelps' not-so-jacked-up face in person, the SI Sportsman of the Year ceremony will be this evening at the ultra-swank Frank Gehry-designed IAC building in Manhattan. Damn economy. Party reports are appreciated, though.
*******
Thank you for your continued support of Deadspin. See ya tomorrow...