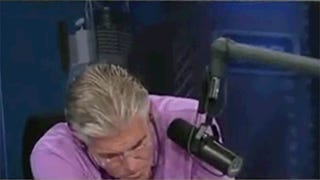 Today, Mike Francesa and regular caller Mike in Montclair talked about LeBron cutting his head on a camera and, in a separate event, showing his dick. Since the usual outline of Francesa's show is "Mike Francesa's coworkers and callers explain sports to Mike and get his reactions," Mike in Montclair had to inform the host of what happened last night.
Savor the audio, as the outrage of Mike in Montclair, who thinks LeBron intentionally showed his dick to the nation—"If that was on a playground, he would have been arrested"—collides with the confusion of Francesa, who's processing the "facts" on air:
By the end, Mike in Montclair is silenced, as Francesa turns rational about the idea of LeBron James spitefully flashing his dick on ESPN. "I mean, little rough take there, Mike."
H/t to @RNs_Funhouse
---
Contact the author at samer@deadspin.com.