Minor league promotions are a mixed bag. For every gloriously bizarre event like "bring your badger to the ballpark" or whatever, there's a 4-H Night or a grass giveaway or a sad appearance by a washed-up celebrity. Sunday's appearance by Corey Feldman at the State College (Penn.) Spikes appeared to fall into the "boring" category, but it attained an air of mystery after the team issued an apology—but for what exactly, it wouldn't say.
The Cardinals' single-A affiliate issued this statement on Monday, after Feldman's band performed following the previous night's game.
From the video above, it looked pretty tame. Even—perhaps—enjoyed by the dozen fans who stuck around to watch. What could have been so offensive? What did the video leave out?
StateCollege.com got to the bottom of things, and the answer is as innocuous as this story is pointless.
On Tuesday, Spikes general manager Scott Walker clarified the apology saying, "We are not apologizing for the content of Feldman's performance." According to Walker, the team apologized because Feldman didn't do what he was expected to do — meet with fans, appear on the field and sign autographs during the game.
In addition, the Spikes weren't originally expecting Feldman's appearance to include a musical performance. And Walker says Feldman didn't sign autographs until after he finished singing, long after that night's game had ended.
G/O Media may get a commission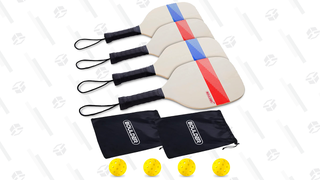 It's Pickleball
Pickleball Sets
I love that it's the GM who's forced to talk about this. Minor league operations are small, I know, but this is a guy who dreams of running a pro front office one day, and here he is having to explain how a former child star didn't fulfill the terms of his appearance.
Anyway, crisis averted. If any Spikes fans find themselves still traumatized, next Thursday is $1 beer night.