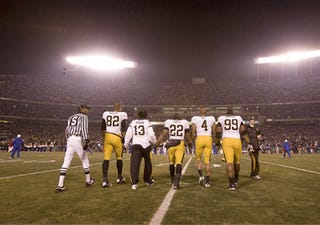 Gary Pinkel has a big challenge tonight as he — wait, is Les Miles coaching Missouri now? No? He's still at LSU? Okay, carry on — coaches his top-ranked underdog Missouri Tigers against Oklahoma. It's a difficult decision, really, to pick one team over another. One can easily make a convincing case to pick either team to win this game.
Oklahoma won the regular season game, but Missouri didn't have their starting running back then, and they've gotten better since, and they're sorta ranked first. I guess you can't please everyone with bold predictions, so I'll just insult them both.
Missouri and Oklahoma, you both suck. 100 percent of the population believes at least one of you aren't good enough to win the Big XII. Put that on your bulletin board and smoke it. Ohio State and Florida in the title game! Hooray, rematch!!
Also, I still don't know how the hell to get Hawaii into the BCS Champeenship game, unless my patent for a Y-shaped football field finally gets approved and I can bring in three teams. They play tonight at 11:45 p.m. against Washington, the first BCS conference school on their schedule. If somebody, anybody, wants to explain why announcers are mandated to wear flowery Hawaiian shirts any time they broadcast from Hawaii, I'm all for it.
So it's the last day of Division I bowl football, until the bowls in a few weeks. Why such a long drought between games? Hey, the student athletes have to take their exams, and three weeks is more than enough time for the players to find out what classes they enrolled in back in August, purchase textbooks from Half.com, pose for a video montage of them cramming, and getting that hard-earned C-plus.