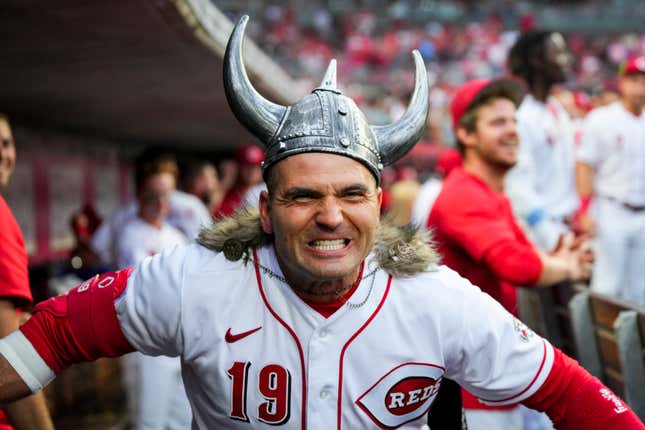 Given where the NL Central is, and where their various teams are in their "processes," it's not really a huge shock that the first part of the season was the Pittsburgh Pirates burning hot for a bit, fizzling out, and now a new, young, rebuilding team can rise to the top for a while and see what life might be like in a few years. A glimpse, if you will. This husk of a landscape is the perfect place for pretenders and usurpers to at least roll through for a bit. That team now is the Cincinnati Reds, who have won nine in a row, and currently sit atop MLB's second-worst division (the middle of the country is a baseball wasteland these days).
The best ERA+ belongs to who? | Stats that will blow your mind
The 30,000-foot view of the Reds is a pretty exciting one. Joey Votto, a city institution if there ever was one, returned from 10 months out thanks to various arm injuries and homered last night. He anchors the team, and it certainly feels like if any 39-year-old is going to provide the extra juice for a darkhorse team to keep going throughout the torturous hot summer in Cincy, it's Votto. The Reds have various young kids throughout the lineup and the rotation (when they're upright). Elly De La Cruz is up, Spencer Steer is hitting, Matt McClain came out of nowhere to claim the shortstop job. Hunter Greene was striking out the world in the rotation, and was the only starter the Reds could count on before he went on the IL this weekend.
There may be more on the way. Christian Encarnacion-Strand is destroying AAA. Connor Phillips has struck out 109 AA hitters in just 64 innings of work. The Reds are clearly working toward something in 2024, or more likely 2025 and beyond.
All that glitters…
Drop any lower so you can get under the hood, and it looks more like some cheap thrills to keep whatever Reds fans haven't sworn off the team in the past couple seasons feeling a bit better about their fix. The Reds have a negative run difference, even worse than the last-place Cardinals. They've done some magical sequencing work. They have a top-10 offense in terms of runs, thanks to a top-five on-base percentage as they walk a lot as a team. McLain, who has delighted so far, is rocking a .436 BABIP that will crash from the sky like a drone run by a child.
And the rotation is worrisome. The Reds are saying that Greene's IL stint will just be that, and won't look anything like Nick Lodolo's extended absence that will carry into August. We all know what a house built on young pitching can look like, it's known as "The Mets' entire existence."
Andrew Abbott, another young hurler, has been up to try and fill the gap for now, but has had walk problems. Other than Greene the Reds don't have a starter who has taken the ball more than five times and has an ERA lower than 4.42.
Manager David Bell has been able to spin all these plates thanks to a bullpen that features five relievers that have ERAs under 3.00. Alexis Diaz and his unhittable slider have been the star in the closer role, and Lucas Sims, Ian Gibaut, and Buck Farmer have basically shortened games to six innings, as is the dream for every team these days.
On another level, the buzz around the Reds has led some owner-sycophants to claim that Bob Castellini's cheapness and callousness led to blowing up a team that never even really got a window was the right call. The Reds won 83 games in 2021, in a division where the Cubs had given up and the Pirates are the Pirates, which means they were never far away from competing for it. They would then lose Jesse Winker, Nick Castellanos, Eugenio Suarez, Sonny Gray, Tyler Mahle, Wade Miley, and Luis Castillo in the offseason and during the 2022 season.
And now, seemingly, they're back. Except it's not that linear. De La Cruz was already in the organization when they sold off. So were Greene and Lodolo. McLain was drafted in 2021. Only Steer is a result of the sell-off, gotten from Minnesota for Mahle. All of these players could have augmented what the Reds already had, or been used in trades to augment, or replaced older players who were then spun off for current help instead of future help. It was not a binary decision of either turning the team over to the kids or keeping the vets. You can do other things. You can blend the approaches (something the Brewers have been doing for five years or so now).
And the real test, as it is for any team that blew up a team that didn't need blowing up, such as the Cubs of recent vintage or the Pirates of the mid-2010s or the Nationals or whoever else, is when this team matures and comes good, will Castellini pay anyone then? Or will he demand that the cycle start over again? Will he be emboldened to do so if this one "works?" Who else will use that as an example of how to do things if he does?
It's certainly better that the Reds are watchable now. But no one should feel they got it "right" when they could have gotten here through another path that didn't involve telling their fans to fuck off royally. And it would be a disservice to fans to portray that this was the only way.
---
Follow Sam on Twitter @Felsgate.