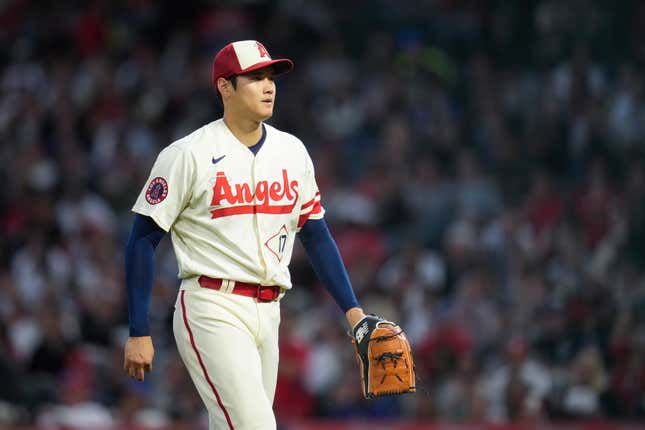 It's easy to connect Shohei Ohtani to Babe Ruth, because Ruth is the only figure that we think even compares to Ohtani. Baseball hasn't had a dominant two-way player since the Great Bambino, so that's what the numbers have to be compared to. It used to be that Ruth's pitching exploits were kind of a factoid tacked onto any study of his hitting prowess, in a kind of, "Oh he could also do this OK kind of thing." So when Ohtani passes Ruth in career strikeouts, as he did last night in the Angels' 3-1 loss to the Astros, Ruth's pitching becomes more than just a factoid, simply because we have nothing else to give it context.
Ohtani has the WBC, but will Mike Trout ever lead the Angels to a championship? | Agree to Disagree
But here's the thing. Ruth was never a two-way player. Not really.
Ruth was only a full-time starter for three seasons in Boston when he first came up. The Sox occasionally used him as a pinch-hitter, but his hitting was restricted to the days he pitched. In 1915-1917, Ruth never had more than 150 plate appearances while starting 32, 44, and 41 games in those seasons. It was only in 1918, something of a poignant year in Red Sox history, that they figured out that he could hit a little bit and started punting him to the outfield on days he didn't pitch. 1919 was the first season he started more than 100 games in the outfield, and then when he was sold to New York, the Yankees started their 84-year stretch of outsmarting the Sox by ever preventing him from taking the mound again. So Ruth never combined both at the same time.
Sure, Ruth didn't have a DH spot to land in as Ohtani does, but then Ruth doesn't face 93 MPH sliders and never tossed them himself as Ohtani does. Ohtani is now on his fourth season of starting full-time and hitting full-time, while also having a couple of seasons of just being a hitter when his elbow turned to putty. So this is unprecedented, and we only connect him to Ruth because it's the only thing in the zipcode to try and give us any sort of comparison.
But Ohtani isn't Ruth. He's more than that. Which is truly the remarkable thing, because to be more than Ruth is to be more than something that's gone on to be more than a legend. It's like saying he's more than Ares or something.
It's not just Ohtani and Trout
Speaking of Anaheim, who knew anyone in Orange County had a sense of humor?
Boston Celtics lay an egg in Game 5
Have to hand it to the Garden crowd last night, who went from booing the Celtics to trying to stir and then accompanying a brief rally back to booing the Cs in the span of about 10 game minutes last night. It must be hard to have to live up to the standards of being so miserable while also having to do what a crowd usually does and cheer good things. God knows what would happen if Boston fans missed a chance to boo.
The series with the Sixers is obviously far from over, but laying an egg at home in a Game 5 isn't a very good look. One wonders if the Cs aren't on the precipice of something bad should they eat it to Philadelphia. The entire Jayson Tatum-Jaylen Brown journey has been shrouded in the questions of if they can actually play together on a championship team and if they could would they be enough. They were awfully close last spring, and only Steph Curry being something celestial got in their way. But then maybe it takes celestial wing play to rise to the level of a trophy.
A second-round loss after a trip to the Final would make a lot of people in Boston itchy, especially after the Bruins flameout. There's always been a feeling that the Cs were living with Tatum and Brown because it's the best they could do, which has never stopped them from dangling at least the latter in trade talks when it came to Kevin Durant at times. At other times that's felt like fuel for the Cs, to prove that this iteration could and would work.
Still, if Boston doesn't win both of the remaining games against the Sixers, those questions will come back. It's been a while now. There's been an element of making the best of what's on hand with Boston. They may decide they have to find more than just what's around.
---
Follow Sam on Twitter @Felsgate.