Midway through the process of finding the precise Hannibal reference to throw into a headline about how thoroughly Mohamed Salah had obliterated the Roman forces sent to Liverpool in today's fantastic Champions League semifinal, Roma stormed back from what was a 5-0 deficit to seal for themselves a 5-2 result and made all the planned talk about a historic semifinal beatdown en route to what might be a staggeringly impressive European Cup-winning season moot. Man, what a way to put a damper on the mood, Liverpool.

Let's not lose sight of the bigger picture here, though. For a good 80 minutes today, Liverpool were at their beautifully terrorizing best. This charge was of course led by Salah—whose awe-inspiring, Ballon d'Or-deserving exploits you may have read about earlier today in a wonderfully prescient blog post on this very site—who once again demonstrated how impossible it is for anyone to contain him when he's on his bullshit. Salah had a direct hand in each of the Pool Boys' first four goals. He scored the first with a textbook curling blast from a stupid angle, and refused to celebrate against his old team:
For his next feat, he wrote his name on the scoresheet again with a second goal, one that displayed both bestial power and physicality with his blistering run through the Roma defense and delicacy and grace with that feathery chip to flip the ball into the net:
G/O Media may get a commission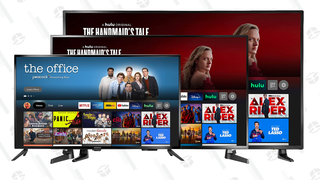 Up to 44% off
Prime Early Access - Insignia Fire TVs
Salah assisted Sadio Mané for the third with yet another speedy run into the acres of space Roma left him to feast on behind their defense all match long:
(Also: Why did Roma leave the most dangerous man in the sport so much room to work all game long? Did they forget how fast he is in the 10 months since he left them? Were they suicidal? Is there a clause in the transfer that brought the former Roma man to Liverpool that says the Reds owe their Italian counterpart a bunch more money if Salah wins the Ballon d'Or?)
Finally, the Egyptian added another assist, this time to Roberto Firmino, by absolutely undressing Roma's Juan Jesus with a wicked move that saw him unexpectedly cut onto his weaker right foot before sending in the fatal pass:
Soon after that goal, with Anfield rocking with the levels of energy that stadium alone can hit when the fans are into it the way they were today, Firmino notched his team's fifth goal from a corner, and the match began to feel more like a dream than a real-life UCL semifinal. Winning the tie itself almost became a secondary concern behind just how much Liverpool would smash Roma by, and whether they would be best served in the long run by fielding a U-23 team in the second leg in Rome to see out the impossible-to-gag-up 8-0 first-leg lead they'd inevitably sprint out to before the day's end. Liverpool manager Jürgen Klopp took Salah off the pitch for Danny Ings with 15 minutes left to play, such was the confidence that the tie was already done and dusted.
Klopp's probably in for some shit for his decision to take Salah off when he was murdering Roma at will, but it was a defensible choice. Salah has played a ton this season, and he already looked gassed during this weekend's Premier League match against West Brom. Klopp probably knows that there won't be many opportunities to give his clearly tired star man a breather for the remainder of the season—not when Salah will likely want to start every league game in his quest to beat the single-season goal scoring record—and figured that with a 5-0 advantage in a match his team had completely dominated, his team wouldn't miss Salah for a measly quarter-hour.
All that thinking about historic wins and forward-looking cautiousness proved ... premature. Roma, remember, refused to say die late into their big first-leg loss to Barcelona in the last round of this competition and nabbed an away goal in what wound up being a 4-1 loss there. That seemingly irrelevant consolation goal proved crucial in what would become their shocking 3-0 second-leg victory that knocked out Barça. Suffice to say, even down big against Liverpool, Roma knew that there was still plenty to play for and made sure to try their best to salvage things.
As was the case in that fabled Barcelona upset, it was Edin Džeko who nicked the goal that gave Roma a flicker of hope. Dejan Lovren did what Dejan Lovren sometimes does and made a boneheaded mistake from which Džeko capitalized with a goal:
A few minutes later, James Milner got whistled for a handball in the Roma box. Substitute Diego Perotti stepped up to the penalty spot, banged the ball past keeper Loris Karius, and by doing so sucked all the wind out of what had been a roaring Anfield crowd. While most Liverpool faithful were busy texting their Real Madrid-supporting friends taunts about how the Reds were going to run right over the Blancos in the presumed Champions League final, Roma had clawed their way back into contention in this tie and turned what could've been an iconic blowout into something threatening to become an agonizing choke job. Given the leads this team has routinely coughed up this season, it wouldn't have shocked anyone to see Roma score another goal or two in the dying moments of the match and make things really interesting.
Alas, Roma's comeback ended with only the two goals, and the match finished at 5-2. Again, this is a commanding advantage, to be sure. If you would've promised any Liverpool player, coach, or fan before the match that the Reds would come out the other side of the first leg with a three-goal lead, they'd have sold you their own souls and probably those of a few of the unborn children's. And while pretty much anyone can score three goals in any given match when up against Liverpool's at-times shaky defense and porous midfield, Liverpool aren't the kind of team to lose 3-0—especially not to a team that finds it so impossible keep up with the speed of Salah and Mané on the counter. Liverpool have a great result on their hands, will almost certainly finish off Roma the same way they did in similar circumstances against Manchester City in the Champions League quarterfinals, and should feel great about their chances in the final against either Madrid or Bayern Munich.
And yet it still feels mostly like a disappointment, like a lost opportunity that Liverpool couldn't really set the tone of the final stages of the Champions League with the kind of terrifying and blemish-free win they were well on their way to locking up today. This probably won't matter in the short or long run. But Roma are technically still alive, and you don't need to have a long memory at all to realize how dangerous that can be.