The Flyers have a reputation as a dirty team. Fine. It's okay to hate them. But a February match-up between two teams barely in the playoff picture is no reason to resort to Hitler comparisons. Save it for the playoffs.
Mike Boone, a Montreal Gazette writer, was a bit pissed at the Flyers' 3-2 win in the first leg of a home-and-home with the Canadiens. He wanted to express just how much he dislikes losing to Philadelphia, because the journalist's mantra is "show, don't tell." Well, mission accomplished. Mike?
There's not a franchise in sports I hate more than the Philadlphia Flyers.

Not the Toronto Maple Leafs.

Not the New York Yankees.
Not the Dallas Cowboys or L.A. Lakers.

No, you'd have to have an Olympic Games flashback to 1936 and watch the pride of Hitler's Germany marching into the Berlin stadium to match the feeling of revulsion I experience every time I see the Flyers play.
I had no idea Montreal had such a rivalry with the Yankees or Cowboys, or that Alex Rodriguez and Tony Romo were up there with Luz Long. But it puts this postgame quote from the Flyers' coach in a very different context:
Those guys were gassed," Laviolette said.
About Last Night... [Habs Inside/Out]
Montreal "Sportswriter" compares watching the Flyers to watching Nazis in the Olympics, or something like that [Phinally Philly]
G/O Media may get a commission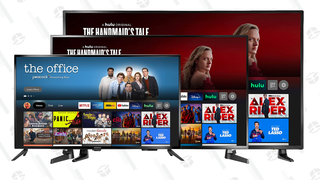 Up to 44% off
Prime Early Access - Insignia Fire TVs