Japan is hosting the World Basketball Championships this year, and you know what that means: confusing cartoon mascots. You'll feel exactly like you've been hit over the head repeatedly with a Pachinko machine after viewing BAD Badtz-Maru — some sort of bad-ass penguin, we're told — and his "friends and family." From FIBA.com:
Sanrio Far East Company, Ltd. Managing Director Andy Y. Toyama stated: "BAD Badtz-Maru has a wicked personality, which is very unique for this kind of character, but he is widely loved throughout consumer markets not only in Japan but also in Asia, the United States and Europe."
Remember their mascots from when Japan co-hosted the World Cup? Yeah, this is one screwed-up island. And please note the ball that the penguin is holding, which will be the actual ball used in competition. Did the penguin poop on the ball? No, it's called a "molten" ball, features something called "magnetic touch," and reminds us of the face-sucking creature in the Alien movies. This seems like unnecessary tampering; there is no need to change the basketball. It's perfect in its simplicity; orange and round is all that's required. Don't get fancy on us, FIBA.
Anyway, the fun begins on August 19. LeBron James is playing, and Dwyane Wade. And the U.S. will likely lose in the semifinals.
BAD Badtz-Maru Launched As Official Mascot For Japan 2006 [FIBA.com]
USA Practice The 'Best Pickup Game In The World' [MSNBC]
G/O Media may get a commission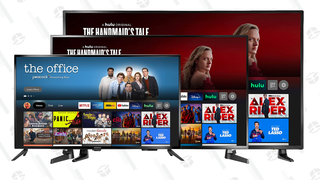 Up to 44% off
Prime Early Access - Insignia Fire TVs