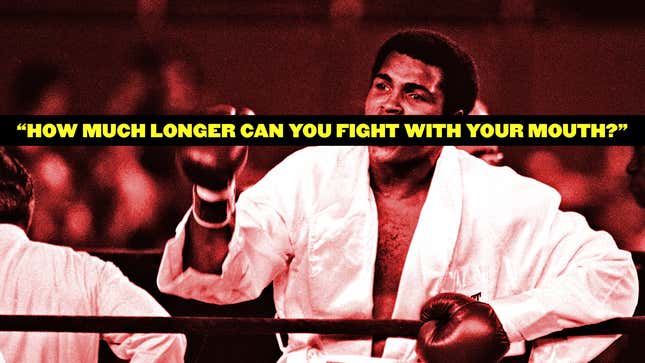 Excerpted from Ali: A Life, By Jonathan Eig.

Aaron Rodgers should go full Joe Namath | Comedian Bert Kreischer
By 1976, Muhammad Ali was everywhere. A name that had once sounded so foreign as to be incomprehensible was now an instantly recognizable brand. There were Muhammad Ali books, Muhammad Ali movies, Muhammad Ali toys, Muhammad Ali posters, even another fledgling hamburger chain, this one called Ali's Trolley. And, of course, there were still Muhammad Ali boxing matches, too. But it was clear that Ali's boxing fame had outlasted his boxing skills.
To help fill the arena in Munich for his fight with Richard Dunn, Ali gave free tickets to American servicemen stationed in Germany. When reporter Mike Katz of the New York Times asked Ali if he saw irony in a conscientious objector inviting soldiers to see him fight, Ali replied with one of his favorite lines: "You're not as dumb as you look." Then, Ali added, "I was against the war. I wasn't against the soldiers."
Ali lost 10 pounds in three weeks to prepare for Dunn. He beat Dunn soundly, but there was nothing impressive about the performance. In five rounds, only 12 Ali jabs found their mark. The jab had always provided offense and defense for Ali. He had jabbed so quickly and so well that opponents didn't have time to fight back. The jab had allowed Ali to control the fight, keeping his opponent at a safe distance but within striking range. But Dunn, as a left-handed fighter, was not as vulnerable to Ali's jab. Without his best punch and without his speedy footwork, Ali had little protection. When he threw big, looping punches, Dunn did the same. At least twice, Dunn staggered Ali. Finally, Ali took over, knocking down Dunn four times in the fourth before ending the fight with another knockdown in the fifth. But it was clear even to casual fans that Ali was an entirely different fighter now. Even against no-name boxers, he no longer escaped unharmed. Shots to the head were the price he would pay to continue his career.
In his televised interview from the ring after the fight, Ali thanked Allah; his spiritual leader, Wallace D. Muhammad; President Gerald Ford; Dick Gregory, who was running across America to call attention to hunger; and the karate masters who were getting the boxer ready for his fight against Antonio Inoki. He sent greetings to "all my family at home" without mentioning any names.
---
Ali's frenzied fight schedule in 1976 reflected the frenzied nature of his life. His nine-year marriage had become an echo of a marriage, a trace of what it had been, and was nearing its end.

Belinda had recently changed her name to Khalilah, saying the name had been given to her by the Nation of Islam's Supreme Minister Wallace D. Muhammad. In an interview with People magazine, Belinda said, "There isn't any marriage. It's past me now."
Khalilah, Veronica, and Muhammad now kept separate apartments in Chicago, and Veronica was pregnant with Ali's child.
Ali's parents were separated. Odessa stayed home in Louisville, ensconced in a new house paid for by her son, while Cash jetted around the world, lapping up the pleasures that came with being the father of the champ—​pleasures that included a lot of free drinks and attention from women who did not ordinarily look twice at a man twice their age.
Ali's financial affairs were in chaos, too. Gene Kilroy paid the bills and tried to scare off vultures. Herbert Muhammad negotiated the deals. Bob Arum and Don King made the fights. But, often, Herbert, Arum, and King wound up competing to make deals. If Ali had served as chief executive officer, setting the strategy, defining the long-term goals, and making a plan to ensure his long-term financial health, he might have been well prepared for retirement. But he didn't. Instead, in the fall of 1976, he named Spiros Anthony, a lawyer from Fairfax, Virginia, as his trustee.
Anthony opened an office and hired a small staff to cull through Ali's business offers. "He was literally the most sought-after celebrity in the world," Anthony said. "You can imagine what people were trying to throw at him, to get him to buy or endorse. Watches, prayer rugs. It was an unbelievable deluge of proposals." Anthony invested Ali's money in real estate—mostly office buildings and condominiums. But Ali soon accused Anthony of siphoning off his money and using it to cover gambling debts, a charge Anthony denied. Ali sued. Although he continued to claim his innocence—and, in fact, claimed that the real-estate investments he'd made had earned Ali millions of dollars​—​Anthony agreed to settle the suit and paid Ali $390,000.
Anthony made several good investments for Ali, and he brought in a respected accountant in an attempt to reduce Ali's tax liability. But after examining Ali's limited business records, the accountant, Richard W. Skillman of Caplin & Drysdale, found it all but impossible to distinguish Ali's legitimate business expenses from a seemingly endless list of loans and investments to Ali's friends. "I think he knew he was throwing the money away," Skillman said.
The boxer's money troubles continued.
"I really want to quit," he said. "But if someone offers you 10 million, it ain't easy." He said he wanted to go out on top, with his health, but he also wanted to go out with $10 million in U.S. Treasury bonds, "so I can have a check that says $85,000, tax free, in my mailbox every month." If Ali's business affairs had been properly managed from the beginning, if he'd employed tax shelters and invested his income wisely, he could have received a monthly check for much more than $85,000 a month in retirement. But, now, as he neared the end of his career, that wasn't the case. Now, he needed to make as much money as he could while he was still capable of fighting in an attempt to make up for lost time, poor decisions, expensive marriages, and wasted opportunities. Many of the men around him—​including Ali's father, his brother, Bundini, and others—also counted on Ali to continue earning for as long as possible.
"They may not let me quit until I can't fight no more," he said.
The Inoki fight—​if it could even be called a fight—was Herbert's idea. Promoters in Japan had promised Ali $6 million to see what would happen when a boxing champion and a wrestling champion met in the ring. But as the fight approached, no one seemed to know if the contest was to be scripted, a gentle exhibition, or a true competition with a set of rules that blended the sports of boxing and wrestling.
The 14,000-seat Budokan arena in Tokyo was sold out for the June 26 bout. In the United States, nearly 33,000 paid $10 each to attend a closed-circuit telecast at Shea Stadium in New York. At Shea, fans would also see a live match between the boxer Chuck Wepner and professional wrestler André the Giant. Ali, always the master of self-promotion, told interviewers that this fight would draw more viewers than any of his others. He promised the action would be real and probably bloody.
As the fight neared, and as it became clear that Inoki wanted to fight and win legitimately, Ali's team came up with a set of rules that pretty much prevented the wrestler from doing anything that would physically harm his opponent. Ali would wear flimsy four-ounce gloves while Inoki would fight barehanded. No kneeing or hitting below the belt was allowed. No punching was permitted when the fighters were on the canvas. Kicking was allowed, but only if the fighter doing the kicking kept one knee on the ground. The rules were not announced to the public before the fight. If they had been, it's a fair bet that no one would have paid to see a competition that sounded more like a game of Twister than martial arts.
The Ali-Inoki fight began with Inoki running across the ring and throwing himself feet first in Ali's direction, trying to use his legs to make a tackle. He missed, tried again, and missed again. Instead of getting up, though, Inoki stayed on the mat, scooting like a crab, swinging out at Ali with his legs from time to time, trying to clip Ali behind the knees and bring him down. Inoki knew Ali had only one way to fight: with his fists. But Ali couldn't throw a punch so long as Inoki stayed on the ground. As Inoki scooted and kicked, Ali hopped around like a man trying to stomp a snake.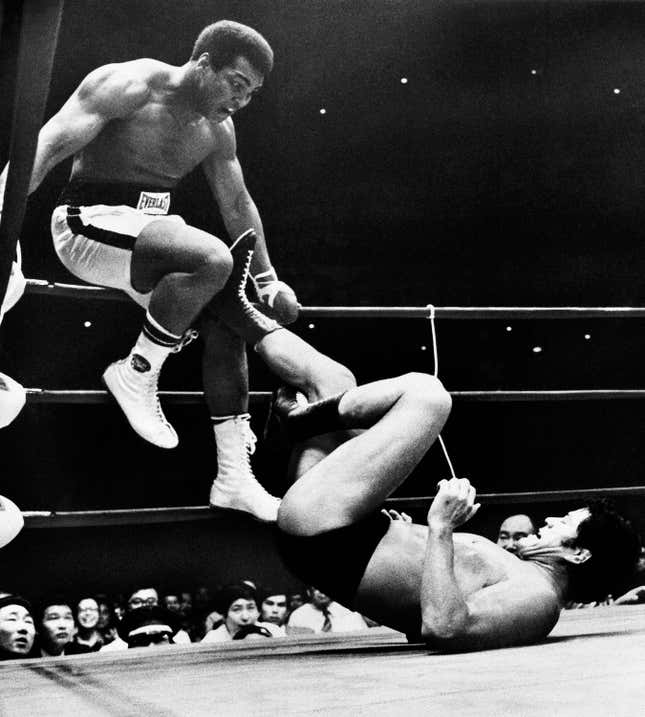 Round after round, Inoki stayed on his back, trying to kick Ali in the calves and thighs. In the fourth, Ali hopped onto the ropes to escape, shouting in horror. In the sixth, Ali tried to grab Inoki's leg, but Inoki got the better of it, wrapping his other leg around Ali's calf and flipping Ali on to the canvas for the first takedown of the night. Inoki climbed quickly atop Ali's chest and squatted on his face.

How much indignity will a man suffer for $6 million? Ali had provided his answer.
That would turn out to be the best action of the fight.
Ali mocked Inoki, telling him to get up and fight. "One punch! I want one punch!" he shouted. Inoki, preferring not to be punched, stayed down. Soon, Ali's legs were swollen and bleeding. Angelo Dundee insisted that Inoki tape his shoes so they wouldn't cut Ali's legs any further.
A pillow fight would have offered more drama. When it was over, Ali had thrown six ineffectual punches. "One million dollars a punch," he later bragged. In fact, his payday was better than that. Only two of Ali's punches landed, which means he was paid $3 million a punch. Or would have made $3 million a punch, if the fight had generated as much income as expected.
Fans booed and threw garbage in the ring. Judges declared the bout a draw; paying customers used more profane language.
For Ali, the fight proved more than an embarrassment. After examining Ali's swollen leg, Ferdie Pacheco urged the fighter to stay in bed for a few days. Ali instead flew the next day to Seoul, South Korea, where he boxed in a four-round exhibition for U.S. servicemen. By the time he flew back the United States, Ali had developed blood clots in his legs and had to be hospitalized for several weeks.
If that were not bad enough, Inoki later sued Ali, claiming that last-minute rule changes left him unable to fight and resulted in lost ticket sales.
---
About a month after Ali's return from Japan, Veronica Porche gave birth to a girl named Hana. Three weeks after the baby's arrival, on Sept. 2, 1976, Khalilah filed for divorce, citing adultery and "extreme and repeated mental cruelty." The case was settled quickly, with Ali agreeing to pay his wife $670,000 over five years. He also gave her a home in Chicago, an apartment building, and other property. And he promised to place $1 million in a trust fund for their four children.

Now Ali had a new child to support and a new ex-wife to compensate. That meant he had greater incentive to continue boxing. At the same time, however, his discipline was flagging. When he felt invigorated, he would wake up at 5:30 in the morning, drive his Stutz Blackhawk one mile from his home on Woodlawn Avenue to Washington Park, and then run around the perimeter for about an hour. But he was not feeling as invigorated as he used to, and on many mornings he skipped his workouts entirely. Since Veronica didn't cook often, Ali would eat fried chicken and French fries coated in spicy orange sauce from Harold's Chicken Shack.
As he prepared to fight Ken Norton at Yankee Stadium, Ali no longer spoke of retirement. He also began looking for more business opportunities. He signed a contract to promote "Ali African Feelings" bed sheets, with a photo of Ali in a tuxedo on every package. "We've got bedspreads and towels, comforters, too / Sheets made for blacks, for whites, and for you," Ali rhymed at a press conference announcing his deal.
The fight game gets harder for an old man like me

Selling sheets is easy as drinking iced tea

The patterns are pretty, the idea's a honey

And would you believe, they are paying me money?
A company called Mego International was making Muhammad Ali dolls (as well as dolls resembling Cher, Farrah Fawcett-Majors, and The Fonz from TV's hit show Happy Days). Ali had his own animated cartoon television show called The Adventures of Muhammad Ali, in which he wrestled alligators, fought off poachers in the African jungle, and battled space warriors. There was even a song about Ali called "Black Superman," with lyrics that rhymed the words "scar" and "king of the ring by far," which became a hit outside the United States. Soon there would be endorsements for Muhammad Ali Sportswear, Saudi Arabian Toyota dealerships, Muhammad Ali Champion brand shoe polish, Gino's fast-food restaurants, Bulova watches, Muhammad Ali rope-a-dope-soap-on-a-rope, the Muhammad Ali Peanut Butter Crisp Crunch Candy Bar, Birds Eye Quarterpounders (launched in England with Ali saying, "It takes a big mouth to eat a big burger"), Ore-Ida Hash Browns, Pizza Hut, and Brut cologne ("Float like a butterfly, sting like a bee, the smell of Brut, and the punch of Ali"). Ali partnered with a Saudi Arabian company that planned to sell "Mr. Champ's" soft drinks, paint, and other products to underdeveloped nations. He also approved a Superman versus Muhammad Ali comic book, and signed on to do television and magazine ads for d-CON brand cockroach traps and cockroach sprays. The d-CON products would come with Ali's picture on every box.
Was this a sign? A preview of how the next chapter in the boxer's life would unfold? Already, Ali had stopped picking fights over race, religion, and politics. Soon, he would stop punching people, too. When that happened, he would become the pitchman for products, not the product itself. But would that be all? Would that be enough? Ali wasn't saying, and he seemed to be in no hurry to find out.
---
In their first fight, Norton had broken Ali's jaw. In their second fight, Ali had escaped with a close and controversial decision. Norton didn't pummel opponents the way Frazier did, and he didn't clobber with the power of Foreman, but he was a strong, smart, defensive fighter, and Ali knew he had to be at his best to win. The question remained, however: was his best good enough?

Ali trained for the contest not in Deer Lake but at the Concord Resort Hotel in the Catskills region of New York. He sparred only about 100 rounds​—roughly half his usual workload for a fight—and generally left reporters unimpressed with his work ethic. One quipped that "the only thing he does with the same ferocity ... as in the past is look in the mirrors." Between workouts one day, he drove Veronica around in a golf cart and tried—but mostly failed—to hit a few golf balls. On another day, he welcomed a group of army sergeants who asked Ali if he would pose for pictures to help promote recruiting for the military, which by now had done away with the draft. Ali, wearing a white robe over boxing trunks, happily agreed. If he commented on the irony of it all, reporters didn't mention it. On another day, he drove to Port Jervis to see a piece of property he claimed to have recently purchased, but he got lost on the trip and couldn't find it.
He slimmed down for the contest, but he still looked a little soft. His chest lacked definition and traces of fat hung around his waist. He had the physique of a man who had been working to lose weight, not a man trying to get strong. Still, he bragged that he was a more powerful fighter than ever, that his new fighting style required neither speed nor subtlety. "I'm almost twice as better as the first Norton fight," he said. "Frazier and Foreman do nothing to stop me. How Norton gonna do it?"
Ticket sales were sluggish. Demand for seats at the closed-circuit venues was far from overwhelming. Ali-Norton promised to be a good fight. It was the rubber match. But it lacked the excitement of Ali-Frazier or Ali-Foreman. Ali didn't even bother to taunt his opponent. "I wanna leave him be," he said. "He don't arouse me."
He tried to get aroused at the weigh-in, barking, "I want you, nigger!" and "Be at that fight, nigger!" But Norton seemed uninterested.
The fight took place on a cool, rainy night before a crowd of about 20,000 at Yankee Stadium. A pun-loving headline writer for one of the city's tabloids called it "Yankee Afraidium," while Sports Illustrated went with "Junkie Stadium." New York City was in crisis, with crime rates soaring, the government flirting with bankruptcy. The rest of the country was only slightly better off. The world's greatest superpower had become heavily dependent on foreign oil, and now there was a desperate shortage of fuel. Gasoline and heating oil prices rose sharply. Many Americans traded their gas-guzzling Cadillacs and Oldsmobiles for fuel-efficient, Japanese-built cars, but they weren't necessarily happy about it. It felt like an admission of weakness. For the first time in decades, America looked like a country in decline. Inflation roared and the economy sputtered. Stories of fear and frustration filled the nightly news.
The Bronx could be dangerous any night of the week, but it was especially dangerous on the night of the fight as off-duty police officers, agitated by new work schedules and deferred pay raises, protested outside Yankee Stadium, blocking traffic, encouraging young men without tickets to crash the gates and sneak into the fight, and more or less advertising that no one was going to get arrested. Limousines were looted. People were mugged. Red Smith of the New York Times got his pocket picked. Still, Odessa Clay made it to the fight. She wore a long black evening gown and sat apart from her husband. The motorcycle stunt rider Evel Knievel was there, wearing diamond rings and cowboy boots made from the skins of boa constrictors. Also in attendance were the painter LeRoy Neiman, actor Telly Savalas, tennis star Jimmy Connors, Caroline Kennedy, and Joe Louis. The fight was delayed slightly because even the fighters had trouble reaching the stadium.
When the action finally began, Ali looked for an early knockout. He fought now as if he were Sonny Liston, a heavy hitter who liked to finish his work quickly. But Ali didn't have the knockout power of Liston, and when he stood flat-footed in the center of ring and swung away, Norton blocked most of the punches or evaded them. As the fight went on, Norton was never seriously hurt. Neither was Ali, for that matter, but Norton was doing most of the punching. He was the busier fighter, the more aggressive fighter, the more artful fighter. Ali employed many of his now-familiar tricks, shaking his ass, winding up his arms as if loading springs before punches, and fighting harder in the final seconds of many rounds to leave good lasting impressions in the minds of the judges. He did an especially good job in the final minute of the fight of loading up and throwing a lot of punches, while Norton fought the final round as if he were confident of victory and no longer needed to take chances.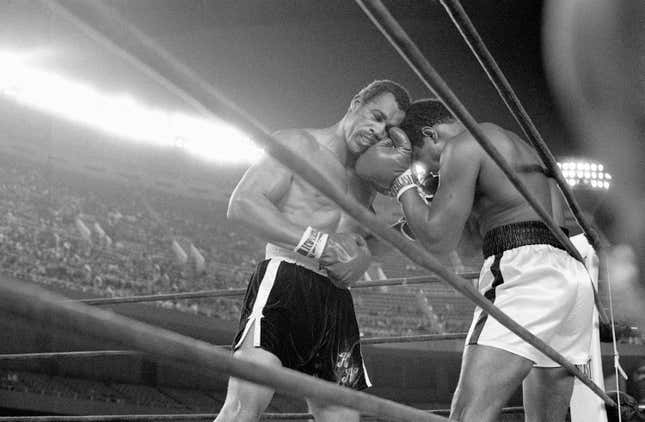 Ali's jabs landed softly. He never shook Norton, never cut him, never slowed him. Through 15 unexciting rounds, Norton landed 286 punches to Ali's 199, including 192 power punches to Ali's 128. Numbers don't measure pain. They don't measure damage. But in this case, the numbers told the story pretty well. Norton was the better fighter and the stronger fighter. He landed more punches, a higher percentage of punches, and harder punches.

When the final bell rang, Norton barked at Ali: "I beat you!"
Ali, having no answer, turned and walked to his corner, head down, shoulders slumped.
But Norton was wrong. He didn't beat Ali—​at least not according to the judges scoring the fight. In one of the most controversial decisions in boxing history, Ali was declared the winner.
"I was robbed," Norton said, sobbing, as he left the ring.
Later, in his dressing room, Ali admitted that he probably won on style points. "The judges always like dancing," he said. "I switched 'cause the flat-footed fighting wasn't going like I thought it would." Far from declaring himself the Greatest, Ali said he had triumphed thanks to diminished expectations. "I tell you," he said, "for my age and all I been through ... it was a perfect performance tonight."
If that was Ali's idea of a perfect performance, his standards were too low for his own good. After the fight, reporter Paul Zimmerman of the New York Post asked his fellow scribes who they thought had won. 17 out of 21 picked Norton. As did Joe Frazier: "You think they're going to give Ken the decision," Frazier asked, "as much money as Ali makes for people?"
A black reporter asked Ali, "How much longer can you fight with your mouth?"

"You're an Uncle Tom nigger to ask me something like that," Ali shot back.

"I'm asking you," the brave reporter repeated, "how much longer can you fight with your mouth?"

"Long enough to whup your black ass," Ali answered, not smiling.

Ali had fought four times in 1976 (not including his farcical exhibition with Inoki), and if not for the generosity of judges, he probably would have lost two of the four. Even his admirers in the press were beginning to describe him as washed up. "There is no question now," wrote Mark Kram in Sports Illustrated, "that Ali is through as a fighter. The hard work, the life and death of Manila, the endless parade of women provided by the fools close to him, have cut him down."
A few days after the fight, Ali flew to Turkey with Wallace Muhammad to meet with Muslim leaders. In an interview at the airport in Istanbul, he said he would probably retire after one more fight with George Foreman. Ali and Wallace, along with Turkey's deputy premier Necmettin Erbakan, attended a noon prayer service at Istanbul's celebrated Sultan Ahmet Mosque (also known as the Blue Mosque). When it was over, Ali made a big announcement: "At the urging of my leader, Wallace Muhammad, I declare that I am quitting fighting as of now and from now on I will join the struggle of the Islamic cause."
"It has been my lifetime dream to be champion and retire from the ring and then use my influence and fame in the work of Islam and Allah," he said. "I have many people advising me to retire and many people advising me to fight just a few more times. I do not want to lose a fight, and if I keep boxing I may lose. I may gain much money, but the love of the Muslims and the hearts of my people are more valuable than personal gain. So I am going to stop while everyone is happy and I am still winning. This is my leader," he said, gesturing to Wallace Muhammad, "this is my spiritual teacher in Islam, and I want to retire anyway. Now he has advised me it will be wise. I have no confusion in my mind."
Under the tutelage of Wallace, Ali was learning more about orthodox Islam. He bowed to say his prayers every day, and he often invited his non-Muslim friends to pray with him. He enjoyed explaining what the prayers meant and why they mattered. The word "Islam" means submission, or surrender, Ali said, and every Muslim knew that it was essential to submit humbly to God's will if one wished to live in peace. The daily prayers were meant to help strengthen his bond with Allah, to remind him over and over that Allah was all knowing, merciful, and eternal. Ali had never been much good at submitting to the will of his fellow man, a characteristic that had helped make him great. But it was one thing to question the authority of a government and another to question the authority of God. He found comfort in the words of the Koran. The prayers, he told friends, gave him a sense that there was order to the universe.
But even so, Ali was not sure he was ready to give up boxing. As he and Wallace Muhammad flew home from Turkey, the boxer began to waffle. He told Wallace he had already spent most of his income from the Norton fight and knew he would face considerable pressure to continue boxing, especially when he started speaking to people like Bob Arum, Don King, and Herbert Muhammad.
Back in the United States, Wallace praised the boxer's decision to retire from boxing in a speech to his followers in Chicago. He said he understood that Ali might have trouble adjusting to life without boxing and might face financial pressures. "If he should lose his wealth because of his changing life," Wallace said, "I would give him all the wealth that I have." But Ali's religious instructor expressed confidence, saying he was proud that the boxer would henceforth fight for God instead of money.
"Muhammad Ali," he said, "congratulations for taking that stand whether you keep it or not."
Excerpted from Ali: A Life by Jonathan Eig. Copyright© 2017 by Jonathan Eig. Used by permission of Houghton Mifflin Harcourt. All rights reserved.
---
The Stacks is Deadspin's living archive of great journalism, curated by Bronx Banter's Alex Belth, who also runs Esquire Classic. Email us at thestacks@deadspin.com.