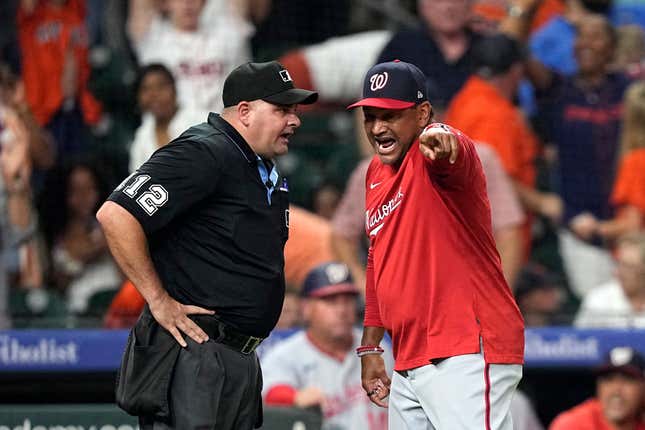 It's hard to describe why Wednesday night's wild ending to the Washington Nationals-Houston Astros game was so much fun. Maybe it's because a 58-year-old man in a baseball uniform showed up to a postgame presser with photographic evidence of a blown call. Or it could have been that I have a friend who's a big Nats fan, and this is that state of Washington pro sports franchises right now (outside of the Caps, of course). But what I think made me smile the widest is that this kind of calamity is extremely baseball.
World Series Stats That Will Blow Your Mind
The amount of rules in the game are endless, and a lot of them seem to contain wide swaths of gray area. Before I give you an explanation, watch this mini-rant from Washington manager Dave Martinez, and tell me what you can discern from it.
People who follow baseball closely probably know what the issue is, but a casual fan might not understand the nuance. Essentially, Astro outfielder Jake Meyers got in the throwing lane of Nats catcher Keibert Ruiz, which led to an error on what would've been the backend of a double play to end the inning and extend the game. Instead, Michael Chavez couldn't handle the throw because it hit Meyers in the helmet, and Houston walked it off on the "miscue."
Violations at first aren't always as obvious as Alex Rodriguez slapping Bronson Arroyo's glove during that infamous Red Sox-Yankees ALCS in 2004, and it has to be all kinds of difficult for an umpire to make that call in real-time with the bases loaded, and the Nats bringing up a fifth infielder. It was sheer chaos and folly, and Martinez was so hysterically worked up about it that fans can't help but laugh.
Could this be fixed with robot umps?
It's a myth that anything is achievable through technology. I'll always want to talk to a representative, and will never trust self-driving cars, or robot umpires. A lot of these calls come down to judgment. While that's an easy fix for the ever-changing strike zone, or whether a ball was in, or outside of the foul pole, there's enough minutiae in the rest of the rulebook to make a supercomputer freeze up.
The baserunning ordinance in question from Wednesday night is Rule 5.09(a)(11) and reads: "A batter is out when: In running the last half of the distance from home base to first base, while the ball is being fielded to first base, he runs outside (to the right of) the 3-foot line, or inside (to the left of) the foul line, and in the umpire's judgment in so doing interferes with the fielder taking the throw at first base, in which case the ball is dead; except that he may run outside (to the right of) the 3-foot line or inside (to the left of) the foul line to avoid a fielder attempting to field a batted ball."
The key phrase in that run-on sentence is "in the umpire's judgment." So, we're still going to need Leslie Nielsen out there making these decisions in real-time, and if there's a performative aspect to it, hopefully it doesn't distract from the game too much.
In no way am I endorsing me-first umps, but come on, you know there's something enjoyable about having an official to focus your hatred toward. Be it the BCS, VAR, or another acronym, screaming at a computer is no fun because you can't hurt its feelings.
And really, any advancement, or change that lessens the chance of Dave Martinez waving around printouts during a news conference would be, as he put it, brutal… brutal!