According to a complaint filed by Pak's Jewelers in Milwaukee, Joe Johnson of the Atlanta Hawks placed a $74,389.20 order for a variety of bejeweling accessories but "never paid any portion of the monetary balance."
The complaint — available via hyperlink in this Journal-Sentinel story — states that jewels were provided, but recompense denied. So anyway, here's Johnson's alleged shopping list:
• A 14 karat white gold rosary necklace, with 60 carat total weight enhanced black diamonds, for $29,980
• A custom diamond Breitling Super Avenger watch, with black PVD coating, for $15,800
• A black-coated stainless steel diamond bracelet for $7,500
• A custom 18K yellow gold diamond grill, with enhanced yellow diamonds, for $4902
• A macrame bracelet for $2,600 and bracelet for $1,800
• An eight-piece diamond grill (bottom) for $5,900
Yo, macrame's fly.
Sure, those items are worth $5,907.20 less than what the Pak men are billing for (parts and labor?), but you can't put a price tag on tricked-out rosaries. However, commenter Dizzle poses a very interesting theory:
The Atlanta Hawks were not in Milwaukee in either July or October of 2010. I find it hard to imagine that Mr. Johnson would make a special trip to our little hamlet for custom jewelry when I am sure that there are ample jewelry stores in the Atlanta metro area as well as whereever he resides in the off-season.
G/O Media may get a commission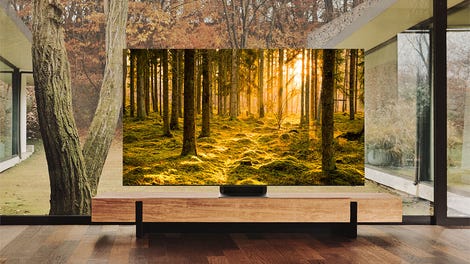 Up to 40% off
Samsung Smart TVs
Jeweler claims NBA star owes $74,000 for custom bling [Journal Sentinel]