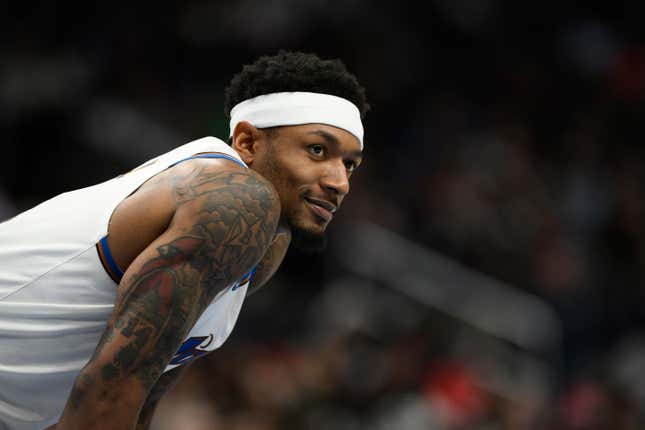 Do you believe in déjà vu?

It sure feels like they do in Washington regarding Bradley Beal. The three-time All-star guard has supposedly been on his way out of D.C. for three years now. We're entering another offseason, and once again, we hear that Beal could be with a new team next season. It was announced Wednesday afternoon that the Wizards and Beal will work together in finding a trade partner with one caveat. The team will work with Beal on a trade if they decide to "reset" the roster.
How DC became the bleakest town for sports franchises | Keep it a Buck(et)
Update: The Miami Heat are favored to land Beal if he is dealt.
"The Miami Heat are already widely regarded as the favorites to win the trade sweepstakes for Beal — largely because Beal, possessing the NBA's only active full no-trade clause in his contract, will have so much say in where he goes," Marc Stein wrote in his newsletter Thursday. "The Heat are believed to be high on Beal's list of preferred destinations... ."
So, if they decide on an all-out rebuild, they will accommodate Beal in finding a suitable trade. If the Wizards aren't willing to build a team around Beal that can compete in the Eastern Conference, then it's time to cut bait and move on. Beal has four years remaining on his current extension, which should be attractive to some contenders. He's due enormous money, but since it'd be much more than a rental, someone will surely jump at the opportunity to add a guy who can fill it up like Beal.
Besides the hefty price tag, the only downside of trading for Beal is health. Over the past two seasons, he's played in just 90 games for Washington. If a team is willing to take a chance on him returning and staying healthy next season, the Wizards should certainly take the plunge and move Beal. He'll turn 30 later this month, so the time to ship him out is now.
There shouldn't be any question about restructuring the roster in Washington. As Nike says, just do it. They aren't even close to competing to make the playoffs. The Wizards finished five games out of the play-in this season. What they're doing in the nation's capital isn't working. It's time to stop blowing smoke and get assets for your greatest one on the roster. Even when he was primarily healthy a couple years ago, scoring 30 points per game, the team still wasn't killing it. It's time for the Wizards to piss or get off the pot. Plain and simple.