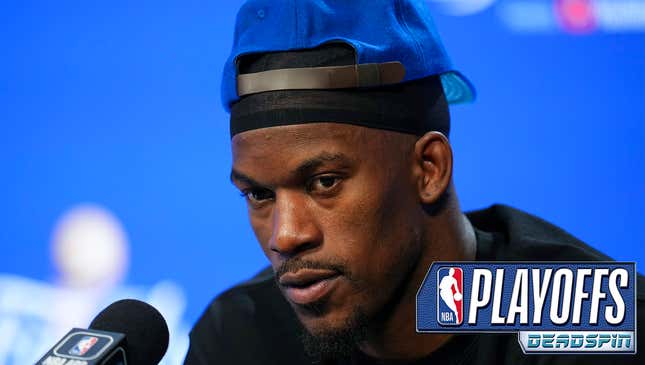 Jimmy Buckets was in standby mode for Game 1. Maybe it was the altitude that Ball Center resides at, or the altitude of expectations, but regular season Jimmy Butler pulled up for Game 1. Butler seemed more intent on picking his spots and taking the Denver Nuggets' temperature. Likewise, the Miami Heat followed Butler's lead, settling for threes and refusing to engage driving lanes. En route to a 104-93 loss, Miami only attempted two free throws. The season for strategic resting ended. The Heat fashion themselves as spartan hoopheads. Well, this is the Roman Coliseum.
The Miami Heat are one of the great underdog stories in NBA history | Keep it a Buck(et)
Maybe Miami is outgunned, but Butler was expected to do his best impression of LeBron in Game 1 of the 2018 Finals. James ultimately lost that series on a roster riddled with more holes than Sonny Corleone at the toll plaza. However, in Game 1 he took the fight to the Golden State Warriors' doorstep. The Cavs lost by 10 in overtime, but it only reached that juncture courtesy of James' 51-point downpour.

Likewise, the Heat followed his lead, settling for threes and refusing to engage driving lanes. Miami hit wide-open triples at an unprecedented proficiency against Boston. In Game 1, they shot like they weren't used to the gravity in Denver. Role players are going to bounce between extremes, but Bam Adebayo's production versus Nikola Jokić was a major key to this series for Miami and Butler didn't do his part. On a night when Adebayo was in an offensive groove, Butler looked punchdrunk from the Conference Finals. His 13 points were his 2023 playoff low. He passed up good shots and was pathologically committed to deferring.

While Butler was testing out his jab, Jokić smelled blood in the early rounds. The Heat have always been a team that won on the scorecard and the scoreboard. They create deflections, set bone-crunching screens, and make it hurt, but they were the ones getting bullied. Jokić came out like Tyson Fury. His soft dad bod, and long gangly arms, belied the wiggle of a man half his size.

He was a human microwave, simultaneously helping his teammates get hot while overcooking the Heat under the Finals lights. The pudgy Michelin Man frame is an even starker contrast to Heat Culture's CrossFit All-Stars. Jokić hits like a Mack truck and in the waning moments, he Sombor Shuffled the Heat to sleep without making a big show of it.
In the Eastern Conference Finals, the Celtics stifled themselves by running around with their tails stuck between their legs for half the series. This Nuggets thing isn't going to the cards after seven rounds.

If Jayson Tatum had started the Finals in this type of funk, the yak shows would be splitting him like an atom, and dissecting his private school background never allowed him to develop the prerequisite Mamba mentality. Hopefully, it pisses Butler off that Denver has had Miami's number throughout the Butler era. This isn't a series Butler can swagger into like he has against the Celtics and Bucks. The Heat are 1-6 against the Nuggets with Butler in a Heat uniform dating back to 2019.

Butler's coffee addiction deserves partial credit for his playoff vibrancy, but BigFace coffee isn't enough. Butler is at his most aggressive when he's seemingly radiated by a cacophony of skeptics.

Jimmy Buckets carried this team to the Finals
The seminal parable about Jimmy Buckets' career was him walking into the Timberwolves practice facility pissed off in October 2018, handing Karl-Anthony Towns his ass while hooping with the benchwarmers against the starters, howling "You can't win without me," at the top of his lungs toward general manager Scott Layden before storming out to record an audacious interview with Rachel Nichols. When Butler came to Miami, oddsmakers projected them as a 43-win team who would make for a nice sparring partner against a contender. Instead, he locked in, carried them to the Finals, and was immortalized in a shot of him doubled over in exhaustion. The Heat can't defeat Denver without that version of Jimmy Butler.

Calm Jimmy Butler isn't going to get it done. Miami has navigated through higher seeds like a swashbuckling group that just downed an 8-ball stashed before tip-off. Jimmy Buckets is the alter ego who can derive that out of the Heat. Whether he's got Udonis Haslem ready to throw down or he's giving Jrue Holiday the business to help ignite a Heat comeback, that's the scrappiness they'll need to steal a game on the road against Denver.

---
Follow DJ Dunson on Twitter: @cerebralsportex