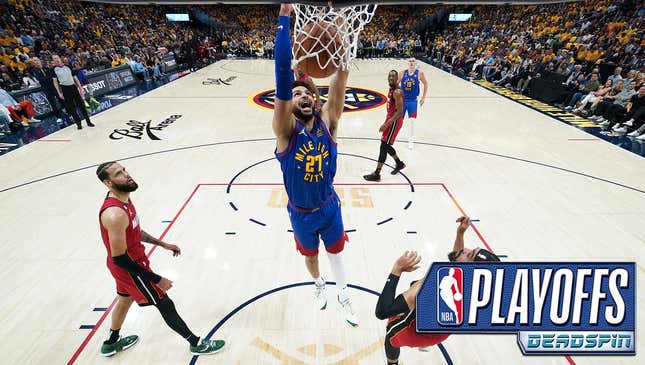 The last time the Miami Heat lost the first game of a series they got swept. Game 1 is always important, but Thursday night was essential for the Denver Nuggets — a franchise that is making its first appearance in the NBA Finals. It's why Mike Malone knew his team was a must-win scenario.
Will South Beach Flu give the Heat home court advantage? | Keep it a Buck(et)
"Game 1 at Milwaukee, they (Miami) go in there and win," ABC's cameras caught Malone telling his team before tipoff. "Game One at New York, they go in there and win. Game 1 in Boston, they go in there and win. Not tonight. Not in our house."
Sometimes, throwing the first punch is your best shot at victory.

Nikola Jokic, Jamal Murray make history
The Nuggets won 104-93 over the Heat on a night in which Nikola Jokic and Jamal Murray made history by joining Magic Johnson and James Worthy as the only teammates to score 25-plus points and dish out 10-plus assists in NBA Finals history.
To understand how impressive the Heat have been in series openers, you have to go back to when their streak started. In the 2022 playoffs, Miami knocked off the Atlanta Hawks in Game 1 of their five series. They followed that up by beating Philadelphia in the first games of that series, before defeating the Sixers in six. They continued that trend against the Celtics in Game 1 of the Eastern Conference Finals before Boston would beat them in Game 7 in Miami.

This season, the Heat knocked off No. 1 seed Milwaukee in Game 1 before finishing the Bucks off in five. Up next was the Knicks, as Miami was on their way to winning three straight Game 1s on the road. And in their dramatic series against the Celtics, the Heat won Game 1 — and seven — in Boston.

Heat hadn't lost a Game 1 since 2021
Before Thursday night, the last time Miami lost Game 1 was when they fell 109-107 to the Bucks in the first round of the 2021 playoffs, as Milwaukee would go on to sweep them.

And to prove that the last two postseason runs weren't a fluke, Miami won all three of their Game 1s in the Bubble until they ran into the Los Angeles Lakers in the 2020 NBA Finals, as LeBron & Co. would win that series in six.
"Nobody else understands. Nobody else is in the locker room," said Heat coach Erik Spoelstra before Game 1 was even played. "It's tough to explain it to people on the outside. But when you have these privileges to be able to go through adversity or setbacks and learn from that, I think those are lessons that we can all benefit from. You develop a grit and a collective perseverance and fortitude. And if you approach it the right way, which this group does, you can really grow."
For the last two seasons, Miami has forced teams to be counterpunchers as they've been the ones to land the first blow. The roles have been reversed now. And if the Heat want to win Game 2 and continue this unlikely postseason run they're on, it means that they'll have to perform in the second game of this series like they've played in the first one for the last couple of years.