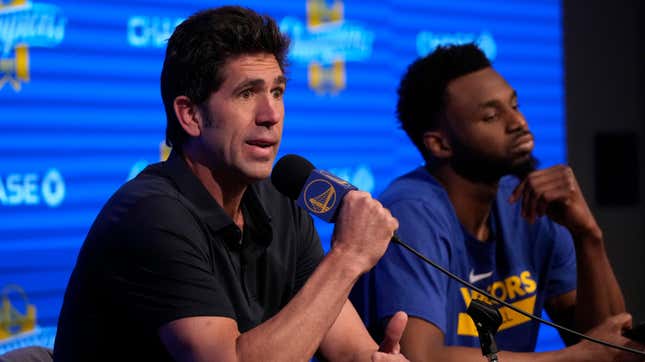 The Golden State Warriors are no longer lightyears ahead of their NBA brethren. Following a second-round exit, the Dubs face a lot of the same issues that bring down over-extended contenders. There are bad contracts, big contracts, and aging stars who aren't what they once were. Klay Thompson is set to make $43 million next season, Draymond Green has a player option that I doubt he's picking up, and the guy he slugged before the season/sent spiraling is going to be in Year 1 of a $128 million deal.
Is the Warriors dynasty over? | Agree to Disagree
It's really hard to go a decade without making a Jordan Poole-type miscalculation, so give Joe Lacob and Bob Myers credit. They were able to win four titles while being smart/shrewd enough to add young lottery talent. While the lottery guys haven't panned out — James Wiseman is a Piston, Moses Moody is inconsistent, and Jonathan Kuminga wasn't playable in the postseason — the fact that they were able to attempt a rebuild while simultaneously contending for and winning a title was impressive.
Let's see Golden State get out of this one
The half-rebuild/half-contender status had me thinking that the Warriors actually were smarter than everybody else, and not just extremely lucky. In reality, it was a mixture of both, but good fortune fades, and even the brightest front offices make mistakes. That's why LeBron James jumps teams after the roster gets bloated, or complains until the GM overhauls the starting five.
Should the Warriors have borrowed a page out of the King's playbook and traded lottery picks and young assets for proven commodities? I wouldn't have because there's an expiration date on that strategy as well.
They're lucky enough to still have young players that teams would likely take a risk on, and what they can get in return if they move on from a Kuminga or Poole will test the front office's mettle. Most GMs get shoehorned into overpaying an expendable role player by year three, and there's no shortage of Evan Turners and Tobias Harris to prove that.
The issue is if Bob Myers will be around to oversee the next phase of the SCU.
Please, stay, Bob
One of the many subplots of the 2022-23 Warriors was Myers, who has been vocal about his contract, or lack thereof, and even started a podcast. Not about the contract; it was more of a vanity project to showcase his personality and wit for the next team.
However, that smart guy energy — or pretentiousness as it's commonly referred to outside of the Bay Area — has me clamoring to see what genius method Myers comes up with to free Golden State from its current straightjacket. I'm legitimately fascinated to see how a team firmly entrenched in salary cap hell digs itself out because it so rarely happens.
Rob Pelinka was able to do it this year because NBA franchises have an unwritten obligation to make lopsided trades with the Lakers, so it's possible that the Dubs' future GM could swap out chicken shit for Rui Hachimura, Jarred Vanderbilt, and D'Angelo Russell. There are any number of poorly run franchises for superior organizations — like the Warriors love to claim they are — to pilfer to rebuild a contender on the fly.
Now comes the hard part for Golden State, and even though there's a salary cap increase coming again, it won't be enough to bail out the Dubs this time.