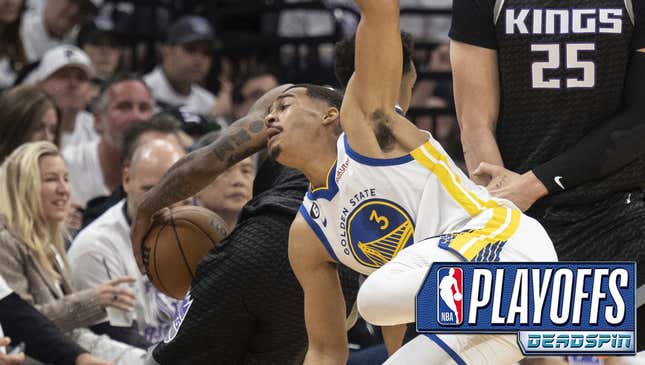 Until the Golden State Warriors and the Sacramento Kings tipoff for Game 3 of their Western Conference first-round series at the Chase Center on Thursday night, every discussion will be about Draymond Green's fourth-quarter ejection after he stomped Domantas Sabonis in the chest for grabbing his leg. Given who was involved and what happened, it's beyond newsworthy. But, the thing that also needs to be discussed is how bad Jordan Poole has been.

Draymond's stomp was uncalled for, but he made the NBA Playoffs fun | Keep it a Buck(et)
Green's antics deserve attention. But, Poole's poor performance has played a larger role in the reason why Steph Curry is facing an 0-2 series deficit for the first time in his career.
"My leg got grabbed. Second time in two nights," said Green.

"There's no room for that in our game today," Sabonis declared. Followed by "whatever happened, happened" as an excuse for not taking accountability for grabbing Green's leg.

"What are you going to do when someone grabs your foot when you're running full speed?" Klay Thompson asked in defense of his teammate.

Your feelings about what transpired on Monday night probably have to do with whether or not you're a Kings or a Warriors fan, or if you just hate Green. Either way, they're valid. But, if we could just get beyond that for a second, we could focus on how the Warriors need Poole to be better — even though Green did go full Christian Laettner.
The numbers don't lie
In this series, Poole is only averaging a shade over 18 minutes per game, has been held to 10.5 points per contest, and is shooting 29.4 percent from the field and 25 percent from three. He's only giving the Warriors two rebounds and two assists a night, and has a plus-minus of -4.5 for the series.
If you don't believe me, here are the stats from NBA.com.
Things changed after the punching incident
When TMZ leaked the video of Green laying Poole out with a "one-hitter-quitter" in October — for an incident that Poole started — the narrative around the team and players changed. Before the video, we just knew a fight or "scuffle" had happened. But when the video leaked, we all quickly learned that Green has a mean right cross and that Poole can't take a punch. And with that came a decision for the Warriors — stick with your emotional leader or side with your young star? The Warriors did both, kinda. Green was away from the team for a while but wasn't suspended from a team in which the locker room dynamic had been changed. Poole signed a four-year, $140 million contract extension and became a dainty fawn that needed protection.

One guy became an even bigger villain, while the other got hit with the label that every basketball player hates — soft. Fast forward to Monday night, and Draymond is still Draymond, and Jordan Poole still can't take a punch — whether it be a literal one from a teammate or a figurative one from the Kings' defense.

This past season, the Golden State Warriors were 11-30 on the road. They're now 11-32. And now the series flips to San Francisco for the next two games where the Warriors were 33-8 on their home floor as they get ready to play a team that won more road games than home games in the regular season.

According to ESPN, Golden State is the fifth defending champ to lose the first games in the first round, as each of the prior four teams went on to lose — three of them got swept. That's the future the Warriors are facing unless something changes, like if Jordan Poole finds his jumper or learns how to take a punch…figuratively speaking.