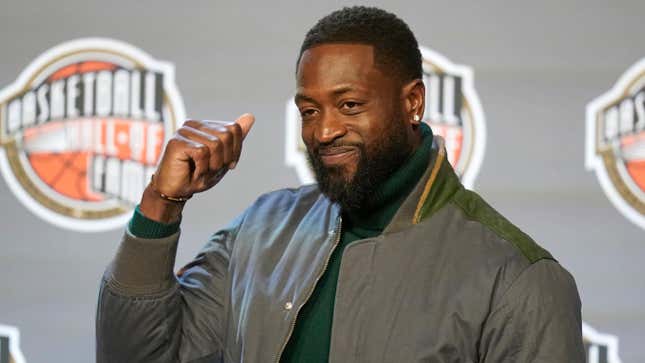 The list of finalists for the Naismith Memorial Basketball Hall of Fame is a snapshot of an era. Dirk Nowitzki and Dwyane Wade headline the class, having met twice in the NBA Finals, splitting the titles between them. Gregg Popovich, Tony Parker, and Becky Hammon are forever San Antonio Spurs. And then there's Pau Gasol, who was a member of championship teams, had numerous battles with the Spurs and Mavericks, and also played a prominent role for the Spanish National Team in the gold medal game against Wade and the Redeem Team.
Rob Riggle, Amin Joseph, Joshua Malina and more share NBA Finals predictions
Trio of players gives credence to international talent
Dirk, Pau, and Tony helped usher in a new era of NBA basketball, one that validated international players on the biggest stages. Between the three of them, they have seven titles, an MVP, two Finals MVPs, and more than 70,000 career points across a combined 57 years in the NBA.
If the Mavericks' loss in the 2006 Finals represented the old guard holding onto the last vestiges of low post-centric title teams, the 2011 win showed just how far the league pivoted from those fundamentals. J.J. Barea was guarding LeBron James because James couldn't take smaller guys on the block yet, and meanwhile, Dirk was unstoppable from any place on the floor. It was only one title, but had the impact of like four, and solidified Nowitzki's standing among the greats.
The knock with Gasol early on was that he's soft if for no other reason than that was the go-to critique of international players. Well, anyone who can absorb the brunt of Kobe Bryant's maniacal brand of leadership, and come out as not only friends, but respected teammates is far from mentally weak. He also should've won Finals MVP over Kobe in 2010.
When Parker first entered the league, he couldn't shoot at all. It was a running joke on NBA on TNT, but Popovich stuck with him, and he blossomed into one of the most underrated point guards in league history. People who only look at the stats — 15, 5, and 3 — won't be that impressed, but those Spurs teams were never about gaudy numbers.
It was a team-first approach that revolved around ball movement, and so many of those Spurs' open looks were a product of Parker's ability to get into the paint and manipulate the defense. He may not have been credited with the assist, but he was the catalyst that got the ball swinging around the perimeter.
While I don't know if Parker will get in this time around —everybody eventually makes the basketball HOF — it would be nice to see him get inducted next to Pop.
Popovich is one of the league's most progressive coaches
Most coaches have a style of basketball and stick to it. It would've been easy for the Spurs to drop off once the NBA shifted toward more offense-friendly rules. It's hard to put into words how plodding and calculated Pop's early title teams were, and he was as unapologetic about it as he was about employing the Hack-a-Shaq defense.
However, his legacy, in my opinion, will be how many different people he empowered. Parker and Manu Ginobili were the prime examples, but Boris Diaw, Fabricio Oberto, Tiago Splitter, Patty Mills, and Marco Belinelli were among a plethora of foreign flavor that's dotted San Antonio rosters over the past 25-plus years.
He didn't stop there, hiring Becky Hammon as an assistant coach, and lobbying for her to become the first woman head coach in the NBA. Pop's advocacy extends to gun rights, and calling out stupid people for idiotic shit, including Donald Trump.
While he'll be remembered for a lot of reasons, perhaps his crowning on-court moment came in the 2014 NBA Finals, avenging a heartbreaking loss to the Miami Heat the year prior and ending the Heatles' reign. That Spurs squad showed that team basketball can overcome a collection of all-stars.
Peak Dwyane Wade was a fucking problem
When fans think about Wade, their minds automatically go to the Miami Heat and the superteam that made four-straight Finals, winning two of them. Yes, he got two rings alongside LeBron, but pre-Heatles Wade was one of my favorite players of the late aughts.
He didn't give a shit about load management. Converse even did an ad with the tagline, "Fall down seven times, stand up eight." He gave his body to the sport, and the 2006 Finals MVP was an acknowledgment of that. Mavs' fans will rightfully complain about the officiating, and that's valid. All I'm saying is there wasn't a Maverick alive or dead who could've contained Wade in that series. He earned most of the fouls he got, and averaged 34.7 points per game. Only nine other players have ever had a higher output in the Finals.
The year before James and Chris Bosh came to South Beach, Wade averaged 30 per game and was All-NBA first team. After that, he never came close to that mark again, though he did make one more first-team All NBA.
He spent the latter half of his career paying the tab for all those hits and falls, and was probably a little overrated. However, he was vastly underrated before that, and that's simply the universe working itself out.